Sarai Tindall Sogliano
From MiddleWiki
Photo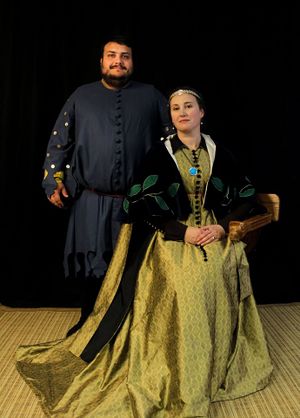 Sarai and Luca Sogliano
Information
Heraldry
Azure, a rose within an orle wavy, a chief argent
Persona
Maestra Sarai is married to Luca Sogliano a Venetian merchant, living in the city at the end of the 14th century. Her parents tried to make sure she was well educated, but she much preferring her sewing to other pursuits.

Offices and Positions
Arts and Sciences Faire Tally Room Coordinator – Spring 2017 to February 2018
North Oaken Regional MOAS – April 2014 to February 2017
Deputy Judges' Coordinator for the Arts and Sciences Faires – January 2015 to January 2017
Arts and Sciences Faire Tally Room Staff – 2013 to February 2018
Middle Marches Baronial MOAS – May 2011 to April 2014

Laurel Lineage
Sarai was an apprentice to Derian le Breton, and has one student Avelyn atte Wode.
Classes and Research
Dressing like a 14th-century Venetian
14th century Italian Sumptuary Law

14th-Century English Sumptuary Law
Beginning Sewing

Miscellany
Affiliations
Former apprentice to Master Derian le Breton
Member of House Ballae Ban
College of Saint Brutus

Kingdom Awards
Order of the Laurel 07 Dec, 2019 (A.S. 54) By the hand of Seto Gesshuko and Ynes de Jaen
Award of the Kings Chalice 05 May, 2018 (A.S. 53)
Order of the Dragon's Heart 28 Oct, 2017 (A.S. 52)
Order of the Evergreen 12 Apr, 2014 (A.S. 48)
Order of the Willow 28 May, 2011 (A.S. 46)
Award of the Purple Fret 10 Oct, 2015 (A.S. 50)
Award of Arms 16 Oct, 2010 (A.S. 45)

Baronial Awards
Compass of the Middle Marches 30 Sep, 2017 (A.S. 52)
Golden Affodil of the Middle Marches 04 Apr, 2014 (A.S. 48)
Gilded Reed of the Middle Marches 18 Jan, 2013 (A.S. 47)

Interests and SCA-related hobbies
14th Century Clothing
14th Century Padded Armour
Historical Sewing
Medieval Textiles

Related
Recreation of the Charles de Blois Pourpoint. Garment Presentation at Kalamazoo Medieval Congress. Kalamazoo, MI, May 2015
The Rise of Fashion as an Idea in the 14th-century: a comparative study between objects and writings. Paper Presented at Kalamazoo Medieval Congress. Kalamazoo, MI, May 2013
Judging Wealth by Clothing: Distinguishing Among Those That Could Not Wear Silk. Paper Presented at Leeds International Medieval Congress. Leeds, England, July 2012
What does 5 marks buy?: A comparison between the 1363 English Sumptuary law and fabric prices in late medieval England. Paper Presented at Kalamazoo Medieval Congress. Kalamazoo, MI, May 2012
The English Wool Industry in Late Medieval England. Presented at Costume Society of America Midwestern Regional. Waterloo, Iowa, October 2011

External Links