Wurm Wald
From MiddleWiki
Wurm Wald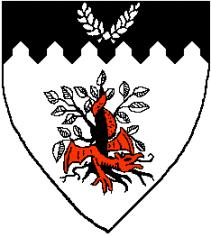 Argent, a wyvern gules spiraling down a tree eradicated and on a chief urdy sable a laurel wreath argent.
Information
| | |
| --- | --- |
| Founded: | Pending |
| In Kingdom: | Midrealm |
| Seneschal: | Jon Piper |
Modern location

The shire of Wurm Wald has been merged with the College of Saint Carol on the Moor to form the new shire of Caer Gwyn.
All of the below information is being kept as a part of the history of the Kingdom.
---
About
Wurm Wald is a Shire in the Midlands Region of the Middle Kingdom. Wurm Wald is centered at Champaign-Urbana, IL. Once known as the Barony of Wurm-Wald, it is one of the oldest communities within the Middle Kingdom. Because of its proximity to the University of Illinois, Champaign/Urbana, there is often a large influx of new members during the Fall with a few moving away in the Spring. The shire is proud of its heritage of producing one of the most-attended and well-rounded events in the kingdom, The Festival of Maidens. (See below.) In addition to Maidens, Wurm Wald maintains regular meetings for A&S, archery, and general studies evenings. Be sure to visit the website and wiki to see what's going on and when.
Events
In late January, Wurm Wald holds the largest mid-winter event in the greater Illinois area called "The Festival of Maidens". This event has been ongoing since 1972. After an interval without feasts, the shire has renewed its tradition of serving feasts at Maidens, followed by dancing and sometimes a dessert revel; there is plenty to keep visitors entertained throughout the day and night. As one of the largest fighting events of the year, there can usually be found numerous lists for heavy combat, rapier, and youth boppers. In addition to the lists, classes on dance and music are held to prepare event-goers for a night of dancing that often lasts well into the midnight hours. Royalty usually graces the shire with their presence for a time of merriment and fun during an otherwise bleak time of year. Arts & Science classes, merchants, and the usual hubbub of large events will round out a Lord or Lady's day at the Festival of Maidens.
Listen closely to the Heralds, as sometimes, additional fighting symposiums and practices are planned for the day after Maidens, or an A&S class or two may spill over into the daylight hours of Sunday morn should an instructor be convinced to stay and play.
This is an event not to be missed for anyone tired of the winter doldrums and in need of a good stretch of their legs, arms, and backs!
On the Web
Schedule-related wiki pages include:
Local people
Territories
Midrealm Baronies: Andelcrag, Ayreton, Brendoken, Carraig Ban, Cleftlands, Cynnabar, Donnershafen, Fenix, Flame, Flaming Gryphon, Illiton, Middle Marches, Northwoods, Red Spears, Rivenstar, Roaring Wastes, Shadowed Stars, Shattered Crystal, Sternfeld


Midrealm Shires: Afonlyn, Altenberg, Aurea Ripae, Baile na Scolairi, Blackhawk, Caer Gwyn, Cuil Choluim, Dark River, Dragon's Vale, Dragonsmark, Eastwatch, Falcon's Quarry, Grenemere, Greyhope, Mynydd Seren, Narrental, Okenshield, Qal`at Ja`far, Ravenslake, Rivenvale, Riviere Constelle, Starleaf Gate, Steren Codha, Stormvale, Swordcliff, Talonval, White Waters


Midrealm Cantons: Alderford, Border Keep, Brackendelve, Castell Gwent, Catteden, Dernehealde, Dun Traigh, Ealdnordwuda, Fearann na Criche, Foxvale, Gleann Iaruinn, Grey Gargoyles, Gwyntarian, Havenholde, Hawkes Keye, Hrothgeirsfjorthr, Lochmorrow, Marshes, Mugmort, Norborough, Nordheim, Oakford, Pferdestadt, Rimsholt, Rokkehealden, Thistle, Three Hills, Three Towers, Three Walls, Tirnewydd, Tree-Girt-Sea, Unicorn, Vanished Wood, WealdLake, Westmere, Winged Hills


Other Territories: Riding: Hawkland Moor, College: Saint Brutus


Incipient and Proto-Incipient: Auenwald, Austrigatt, Cetus, Grenemere, Woods End