AnneLyse van Gavere
From MiddleWiki
Photo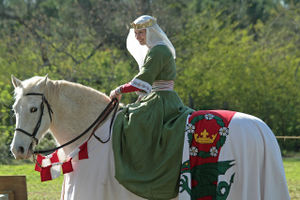 Queen AnneLyse at opening ceremonies for Gulf Wars 2011
Information
Heraldry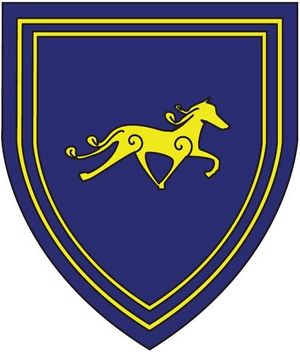 Azure a horse trotting within a double tressure or
Persona
AnneLyse flits between periods, with a primary focus on Scandinavian and Anglo-Saxon regions during the Viking Age.
Offices & Positions
Seventy-eighth and eighty-second Queen of the Middle Kingdom
Former Chatelaine, Chronicler, and Seneschal for the Shire of Dragonsmark
Miscellany
Interests and SCA-related hobbies
Wide ranging interests, particularly in fiber crafts. Including nalbinding, Anglo-Saxon and Viking age clothing, embroidery, and weaving. Other interests include baking, casting, research, and household arts.
Reign details
78th Reign of the Middle Kingdom
82nd Reign of the Middle Kingdom
102nd Reign of the Middle Kingdom
Calligraphy and Illumination Gallery