Zuriel Nightshade
From MiddleWiki
Photo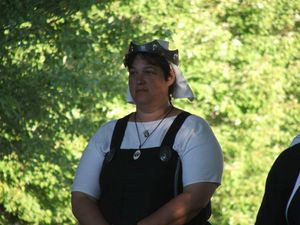 caption
Information
Heraldry

blazon
Zuriel is a proud member of House Darkyard and Vito's Minions, she is best known for her fine cordials and excellence in Archery (she is a companion of the Greenwood Company and one of the preimere's of the White Lance for her work in the Equestrian community. Elevated to Pelican was elevated by William and Isolde at Pennsic 46.
Persona
Offices & Positions
Interkingdom Brewer's Guild person (I forget her specific title)
Regional Equestrian Marshal
Archery Champion's team (several years)
Miscellany
Zuriel was one of the premiere's of the Order of the White Lance.
For several years Zuriel and Mistress Arwenna of Kelsley held a joint spot on the Champion's team as one of them was better at marked distances and the other was better in the woods, they dubbed themselves "Zarwenna" and considered themselves a better archer than either alone!
Interests and SCA-related hobbies
Archery, Brewing & Vinting, Equestrian, Combat Archery