White Lance
From MiddleWiki
Company of the White Lance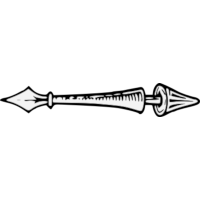 Information
| | |
| --- | --- |
| Blazon: | (Fieldless) A lance argent. |
| Registered: | August 1999 |
| to: | Kingdom of the Middle |
The Company of the White Lance
The Order shall be given to individuals who, in the sight of the Crown, have shown excellence in two of three areas of equestrian activities: skill, service and the arts and sciences.
The Order shall confer upon the holder a Grant of Arms if that individual is not already a holder of a Grant of Arms.
Precedence
Below the Dragon's Heart in precedence
Equal to the Bronze Ring, Gold Mace, Greenwood Company and Evergreen
Rights and Privileges
Holders of the Order shall be entitled to place after their names the initials, C.W.L. and may be styled and announced in precedence as Companion of the White Lance.
Companions of the Order may display the badge emblazoned: (Fieldless) A lance argent.
History
This Award was created by ?
There were three premieres of this Equestrian Order; Serena Kimbalwyke, Zuriel Nightshade and Mathilde of Jaravellir – Apr 17, 1999 by TRM Dag and Elayna

See Scroll texts for standard and variation texts for this Award or Order.