William Rayne
From MiddleWiki
Photo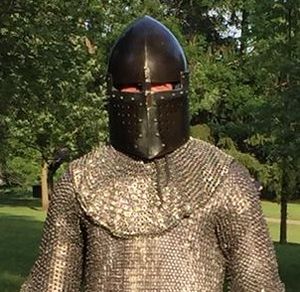 caption
Information
Heraldry

blazon
Chivalric Lineage
Elevated by: Duke Edmund of Hertford. Date of elevation: 01 Oct, 2016
William Rayne was squired to Duke Eliahu ben Itzhak and fostered to Count Savaric de Pardieu.
He has no current squires.
Interests and SCA-related hobbies
Sir William Rayne was one of the three Founders of the Brotherhood of Steel. He has studied various forms of traditional martial arts since around 1998 (Most notably Hapkido, Boxing, and Greco-Roman Wrestling). He started studying Western Martial Arts (Armored Combat) in 2004, and fell in love with it instantly. He began teaching in earnest in 2013.

William makes custom, hand-made sword scabbards as a hobby. He also dabbles in more mundane arts like drawing, painting, and singing.