Artair Mac Neacail
From MiddleWiki
Photo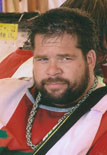 Sir Artair
Information
Heraldry

blazon
Syr Artair Mac Neacail
For current information, please visit http://wiki.cleftlands.org/Artair_Mac_Neacail
Persona
Offices & Positions
Former Cleftlands Knight Marshal.
Artair served as captain of the guard for the reign of Alaric le Fevre and Noelle la Chauciere. He was King's Champion for the reign of Ullr I and AnneLyse I (September 2008 to May 2009)
Miscellany
Artair was squired to EikBrandr Solgyafi
His household, Medved Ohoytnik, is part of Trotheim, a greater household dedicated to researching and celebrating the Heroic Age.
Interests and SCA-related hobbies
In addition to brewing, Artair enjoys sewing. His projects include everything from the yurt his family camps in to the furry Viking hat the ladies love!