95th Reign of the Middle Kingdom
From MiddleWiki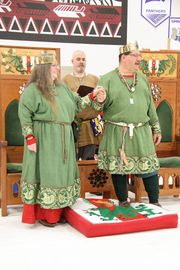 King: William I
Queen: Isolde I
Crown Tournament: October 15, 2016. Co-hosted by the shires of Wurm Wald and Saint Carol on the Moor. William defeated Count Savaric in the finals.
Coronation: May 6, 2017. Held in the Barony of Flaming Gryphon.
Notable events: Baronial Transitions for the Barony of the Cleftlands and Barony of Red Spears. Their Majesties gave away 824 awards during their reign, a substantially larger number of awards than usual. At their last court, they awarded an Augmentation of Arms (A Golden Quill) to all 170 contributing scribes who created award scrolls during the reign. The reign was presented entirely in early period, Anglo-Saxon (700-900 AD England) with the Crown responding to all oaths in Old English. The Crown also created "The Warband", which patrolled the hall during courts and was often dispatched to bring worthy gentles to court to be recognized.
Champions:
Royal Staff:
Knights/Masters elevated:
Laurels elevated:
Pelicans elevated:
Masters of Defense elevated:
Curia Regis:
---
94th Reign of the Middle Kingdom < 95th Reign of the Middle Kingdom > 96th Reign of the Middle Kingdom