Duncan Burns
From MiddleWiki
Photo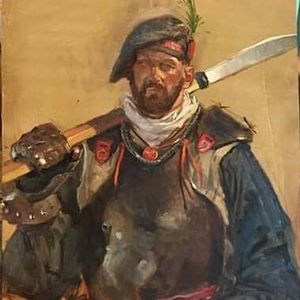 Captain Duncan Burns
Information
| | |
| --- | --- |
| Resides: | Midlands(ALWAYS) |
| Status: | Active |
| Awards: | Visit the Order of Precedence to access a list of this person's awards. |
Heraldry
Sable, a chevron vert fimbriated argent and in base on a plate a brazier sable enflamed vert.
About this person
Persona
Duncan is a Borderer, what many call a Reiver. Most respectable English folks would label him a Scot. Any respectable Scot of course would consider him an Englishman. Both agree that he is not to be trusted around livestock.
Born in a time (1540) of constant War between Scotland and England, Duncan has understandably grown up to be unsettled by the calm between battles(it is 1585 for him).
The second son of a second son, gavelkind left him with little choice but to turn his violent skills to profit.
Currently called to the stand before the Warden of the Middle March for a violation of Border Law, Duncan chose instead to seek useful purpose outside the Debatable Lands. Initially he settled on the Border between Northshield and the Midrealm. Once a Borderer...always a Borderer and the Northshielders guarded their sheep poorly. However...he found a better place to build a keep on the Border between the Midlands and Constellation. So far, no one has caught him stealing anything.
So far.
Offices & Positions
Marshal of the Field
Midrealm Army Chief of Operations
Regional XO, Unbelted Champions Midlands 4 terms
Regional Legion Commander Midlands 3 terms
Champion in the War Band of King William of Fairhaven I (AS51)
Founder: Combat Camera Corps[overall]/Midrealm[Operator]
Miscellany
Squired to Sir Gueric der Wilde Fuchs || Often assigned the Byname 'Monster'
Married to Capt Mei Li.
Interests and SCA-related hobbies
The 4 cuts, The Place, and True Time.
I spend a fair amount of time trying to shove as many Period Fightbooks into useful ideas as possible.
Awards and Honors
Order of the Royal Vangaurd 23 Sept, 2017/A.S. 52
Order of the Dragon's Heart 23 Jun, 2016 /A.S. 51
Order of the Gold Mace 13 Jun, 2015 /A.S. 50
Order of the Red Company 14 Aug, 2006 /A.S. 41
Award of Arms 13 Nov, 2004 /A.S. 39