Soffya von Kulpe
From MiddleWiki
Photo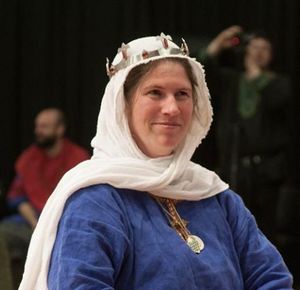 April 9, 2017. Photo by Blair Burns
Information
Heraldry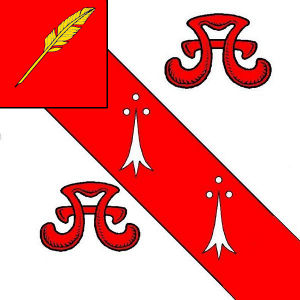 Argent, on a bend between two water bougets gules, three ermine spots palewise argent, and for augmentation, on a canton Gules, a quill pen in bend sinister Or. Rendered by Estelle de la Mer
Persona
Soffya is a 15th century salt merchant from Lübeck, Germany. She is involved in trade through the Hanseatic League.
My SCA Story
I have supported The Dream through my local barony of Flaming Gryphon for almost 25 years, having served as its Territorial Baroness by the grace of Their Majesties Alasdair and Guenievre. Made a Court Baroness by Ullr and AnneLyse, and elevated to the Order of the Pelican by William and Isolde.
I am always an enabler and facilitator, ready to help where able and refer when my knowledge is not enough. In particular, I encourage the archery community and the scribal arts, niches which may not be readily accessible to all.
Offices & Positions
Current
Former
Middle Kingdom Deputy for Waterbearing - 2000-2002
Flaming Gryphon baronial crossbow champion - 2011, 2015, 2016
Lineage
Service
Arts
Archery
Student to Richard le Fournier
Interests and SCA-related hobbies
Scribal arts
I became a scribe shortly after being invested as territorial baroness of Flaming Gryphon, because I figured I should help create the awards that I was handing out. I think the most important award someone will ever get is their Award of Arms, since it's the only honor given to the vast majority of people who participate in the Society, and I strongly believe that a scribe should put forth their best work on AoAs for this reason.
Tiny Dragons
I love tiny dragons because painting them allows for more flexibility with design and size on scrolls instead of having to leave a defined space for the stamp that is otherwise used. Some of them look like they skipped arm day at the gym, but they're all individuals.
Archery
Archery is another discipline I began in support of the community as landed baroness. One of our veteran archers, James Cunningham, presented me with a crossbow he had made shortly after our investiture in 2004, and I've used it ever since. I've had the honor of being recognized both as a member of the Dragon's Barb and the Greenwood Company
Classes taught
External Links