Haerulf Rifnabrok
From MiddleWiki
Photo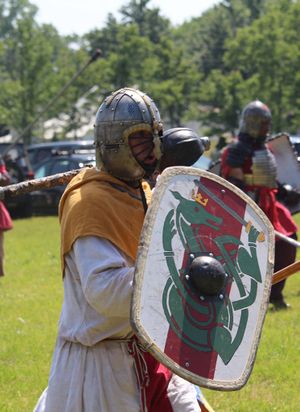 Haerulf Rifnabrok in Kings Champion livery
Information
| | |
| --- | --- |
| Resides: | Marche of Tirnewydd |
| Status: | Current Member |
| Awards: | Visit the Order of Precedence to access a list of this person's awards. |
Heraldry

blazon
Persona
Haerulf is a 9th Century Dane, enjoying a wonderful Northumbrian farm right outside of Jorvik. The locals have been kind enough to provide him with plenty of opportunities for "wealth acquision", including the helm he received from a deceased Northumbrian 2 summers ago (he wasn't gonna use it anymore...).

Offices & Positions
Current
Deputy Webminister - Barony of Middle Marches

Previous
King's Champion (North Oaken Region) in TRMs William and Isolde's Warband - A.S. 52
North Oaken XO of Unbelted Champions - A.S. 52
Armored Group Marshal - Marche of Tirnewydd - A.S. 51-52

Miscellany
Affiliations
Squire to Curra Diglach McCein.
Member of House Ballae Ban.

Kingdom Awards
Order of the Royal Vanguard - 23 Sept, 2017 (A.S. 52)
Order of the Silver Oak - 28 Jan, 2017 (A.S. 51)
Order of the Red Company - 10 Oct, 2015 (A.S. 50)
Award of Arms - 06 Jul, 2013 (A.S. 48)

Baronial Awards
Warden of the Middle Marches - 05 Apr, 2014 (A.S. 48)

Interests and SCA-related hobbies
Armored Combat
Silversmithing
Viking-Age Research
The Danelaw
Axes