Matildis la Libraire
From MiddleWiki
Photo
Matildis la Libraire, Fall 2021
Information
Heraldry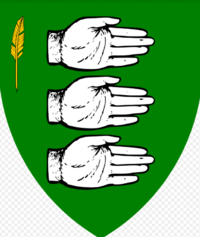 Vert, in pale three sinister hands fesswise reversed argent, for augmentation in canton a pen Or.
Matildis la Libraire (ma-TIL-dis la lee-BRAIR) (she/her) joined the Society between 1994 and 1996 in the then-Shire of Shadowed Stars, under the name "Heather of Shadowed Stars". She then moved to the Barony of Rivenstar in 1997 or 1998, changing her name to "Arrantxa Idazle Iruñekoa" between 2000 and 2002. This name was intended "to delight the scribes and torment the heralds", as she put it, as well as honoring the Basque region of Spain, where she had lived as an exchange student before ever discovering the SCA. Eventually the humor of having a difficult-to-pronounce name wore off, and she finally began the process of registering "Matildis la Libraire" and her arms in 2017. While not a Laurel, Matildis has nevertheless received awards for both skill and service to the kingdom and scribal community.
Persona
Matildis la Libraire's "persona story" is still a work in progress, but it is known that she is from approximately the 1450s and lives in a university town: either Paris, France or Leuven, Brabant in the Burgundian Netherlands (present-day Belgium)... or, within the SCA, the university town of the Barony of Rivenstar. In the Middle Ages, Matildis operates as a libraire, a specially-licensed bookseller who keeps master copies of university textbooks for students to rent and copy for themselves. In the Current Middle Ages, she is primarily a scribe and takes commissions for custom work, in addition to her service to the Crown.
Offices & Positions
In Shadowed Stars
In Rivenstar
Webminister for seven years
Founded and hosted the Rivenstar Scriptorium from 1999 to 2003
Interests and SCA-related hobbies
Scribal
(See Gallery below for scribal images)
Matildis took an interest in calligraphy and illumination in the fall of 1999, after completing the Infamous Kite Project (described below). By December of 1999, she had produced her first piece, the text being wedding vows for recently-married friends. Her first SCA scroll, a Cavendish Knot for Duke Moonwulf Starkaadersson, followed in April of 2000. Matildis has been creating scrolls off and on, with the occasional hiatus, ever since.
Of note is the fact that Matildis is left-handed, and chooses to write all her calligraphy upside-down, to avoid smudging and to work with the natural behavior of the calligraphy pen. While the 1999 wedding vows were written right-side-up, Matildis's first upside-down test alphabet looked better than four months' worth of rightside-up calligraphy practice, and so every SCA piece she has ever produced has been written upside down. Moonwulf's scroll reflects this by illuminating the final letter as if it were the capital, so that it "looks right" when held upside-down. Their Majesties Finn Herjolfsson and Tamara Di Firenze were gracious enough to sign the scroll upside down, as well.
Rivenstar Scriptorium
Also in 1999 or 2000, in response to interest within the Barony, Matildis created the Rivenstar Scriptorium to teach and allow beginning scribes to practice their skills. The scriptorium met weekly, and members crafted scrolls for the Principality of Cynagua in the West Kingdom, producing between 20 and 50 scrolls for them while the scriptorium was active. A highlight of the scriptorium's work was a collaborative "Laurel Book project", a combination award scroll and vigil book for the elevation of Fionbharr MacShane in May of 2003. The book comprised 64 pages on handmade paper, the first eight of which held the illuminated text of the award scroll. Unfortunately, Matildis is not skilled as a project manager, and the stress of producing the Laurel Book within the deadline caused the scriptorium to dissolve by autumn of that same year.
Matildis continued to create scrolls sporadically after the scriptorium shut down, notably producing an Award of the Sapphire for Sir Caveron O'Dell at the request of Arch Teryx at his coronation in 2011. This scroll featured gilding in 23k yellow gold, 12k "white gold", and copper, as well as glass gems and genuine sapphires, including a pendant wired into the scroll in a way that allowed it to be removed for wear by the recipient. After that, Matildis felt challenged to try and improve upon every scroll produced and expand her skill sets accordingly.
In about 2015, after creating a double Dragon's Tooth scroll for Robert ap Llywelyn, he gifted her quality art supplies which improved her work dramatically.
2016
Matildis participated in the Calf to Codex project, which created a period book entirely from scratch, using period materials and methods, and only artisans and expertise gained from participation in the SCA. Contributors included poets and composers, calligraphers, gilders, illuminators, and bookbinders, as well as suppliers of linen thread grown from flax, silk thread hand-reeled from silkworms, egg yolk (for paint) provided by period breeds of chickens, and parchment hand-prepared from donated deer hides. The Codex, a book of poems and history of the Middle Kingdom, took about five years to complete. It traveled the Middle Kingdom for public viewing, readings, and performances for five years, after which it was retired to the keeping of Master Johannes von Narrenstein.
Matildis's pages were placed in the very first gathering of the book, and featured a carol written by now-Dame Ursula Mortimer, transcribed with period musical notation from the 1400s. Matildis's child, age 10 at the time, also assisted with the illumination.
2017
Matildis received a Royal Augmentation of Arms along with about two hundred other scribes, for her work assisting the reign of William and Isolde to produce over 600 scrolls within the duration of their reign. Matildis produced about twelve scrolls as part of this undertaking.
2018
In about 2018, Matildis began accepting private commissions, such as the King's Chalice scroll for Sir Bran Atte Rowan; based on the Luttrell Psalter, it featured textured gilding throughout.
2019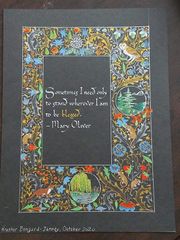 Sometime in later 2018 or early 2019, Matildis took an interest in the "Black Hours" manuscripts, specifically those in the style of the Hours of Galleazzo Maria de Sforza. She has created several scrolls and other pieces in this style. She has also created a class teaching this style of illumination for SCA use. She also began her most ambitious scroll project to date, a knighting scroll that will measure 18x26 inches, featuring four columns of text, three miniatures, and original text by Kai Tseng and Ursula Mortimer.
2020
In January of 2020, Matildis and her family survived a fire that destroyed their home. The Middle Kingdom hosted two fundraisers at the Festival of Maidens, barely two weeks later; Matildis would like it to be known that she remains touched, humbled, and profoundly grateful for the outpouring of support and generosity of the kingdom's populace during that time and throughout the months following.
Of course, in February, the covid pandemic struck the world and led to lockdowns and a suspension of in-person activities for quite some time. However, the Royal University of the Midrealm stepped up in grand fashion to provide the populace online classes through Zoom for an entire year. In between filling scribal commissions, Matildis participated in the RUM sessions and taught several classes. She discovered that with a top-down camera focused on her work, virtual scribal classes were almost easier to conduct than the in-person versions, because students could easily see what she was doing while she demonstrated various techniques. Matildis's classes were featured between May and July of 2020, then stored permanently on the University's YouTube channel. As of 2021, over half of the channel's scribal playlist videos originated in classes Matildis taught.
2021
In January of 2021, Matildis and her family moved back into their rebuilt home, and Matildis promptly began work on "take two" of Bran's knighting scroll. In between work on this project, she crafted a few court scrolls, including a trompe l'oeil style scroll for a friend who received her Willow in bookbinding. Matildis also taught three classes at Fall RUM in November, created a YouTube channel, and has recorded several scribal videos, with plans to create more as time allows.
Matildis continues to offer advice as one of the "mentor" members of the Aspiring Scribes Forum on Facebook, and has written two short articles for the group.
2022
In March, Matildis created the Pelican scroll for Astridr_Zahra_Ymirsdottir. In April, Matildis taught two classes at the event Scribin' and Imbibin', "Ames Lettering Guide" and "Ridiculously Easy Flowers".
Other Arts and Sciences
Kites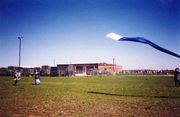 From February to April of 1999, Matildis (still Heather of Shadowed Stars) researched and constructed a kite from period instructions. The kite was unusual in that it had a European origin rather than Asian, and yet predated the known 1600s introduction of kites to Europe after the Dutch made contact with Japan. Instead, the instructions came from a German-language manuscript dated between the 1420s and 1440s, and included measurements for all the parts of the kite, how to fly and land the kite, and even how to have an assistant stand beneath the kite so that if the string broke, the assistant could find and retrieve the kite, and also serve as a diversion when curious villages came up the hill to pester the one actually flying the kite. These instructions were translated into English in the book, The Dream of Flight: Aeronautics from Classical Times to the Renaissance by Clive Hart.
The "Infamous Kite Project" resulted in a dragon-style kite over 40 feet long; in place of parchment and silk, it was made from Tyvek and nylon. Its first flight was at Rivenstar's Spring Event in April of 1999. Originally the kite consisted of a rectangular face from Tyvek and a long tail made from nylon, with a gore near the top to expand the dragon's "body". In subsequent months, two "wings" were added to the tail, immediately below the kite face, in accordance with the period instructions.
At the time of its construction, this was the only known kite of its type in the Middle Kingdom and possibly the Known World.
The kite was entered into A&S competition, but scored relatively poorly due to its modern construction and inadequate documentation. It flies quite well despite this.
Singing
A lifelong member of choirs both in and out of the SCA, Matildis joined the Rivenstar Madrigal Singers, conducted by Pieter van Doorn, upon moving to Rivenstar in 1997 or 1998. She was also a founding member of the group "Rosaleen Dhu" alongside Lorelei Skye of Sans Nomen who was later Laureled for her service and expertise in the bardic arts. Rosaleen Dhu performed both in and out of the SCA for a few years with a revolving membership.
The Rivenstar Madrigal Singers competed at both the regional and kingdom levels at least once during Matildis's membership.
Heraldry
Matildis took up an interest in the "secret code" of heraldry blazons as a child and was very happy to find a practical use for her knowledge upon joining the Society. While never officially a herald, Matildis received a Purple Fret for her heraldic assistance on House Darkyard's public forum, Legio Draconis.
Mosaics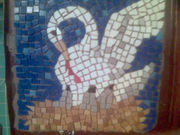 Matildis (at the time, Arrantxa) became interested in making mosaics in roughly 2005, and began a project to create stepping stones with the intent of placing them around Rivenstar's Pennsic firepit. Each mosaic was to be done using the double direct method; where the Romans placed the stones in quicklime that did not cure, and covered the finished design in several layers of fabric and glue to transfer to a mold, Matildis used modeling clay and duct tape. Colored glass tiles cut to shape were placed in the clay according to designs Matildis had sketched previously. When each design was finished, it was covered in duct tape and placed upside down in a stepping stone mold, and mortar mix poured over it. When the mortar was cured, the stone was removed from its mold and the duct tape peeled away to reveal the design.
There were originally twelve images in the project, each meant to depict various aspects of the barony's culture, from music to hospitality. The project went slowly, with the third stone only being cast in 2007. Unfortunately, after that stone broke because the mortar was incorrectly mixed, Matildis got sidetracked trying to repair it rather than crafting a new one, and the overall project was abandoned. The completed stones were a Pelican in its piety to represent the Barony's long history of service, a coursing greyhound, and a minstrel with harp (which broke). The remaining planned designs included a plate and mug representing Rivenstar's feast hospitality, crossed swords for its members' martial prowess, and several others.
Both surviving mosaics as well as the supplies to make the rest were destroyed in a house fire in January of 2020.
Embroidery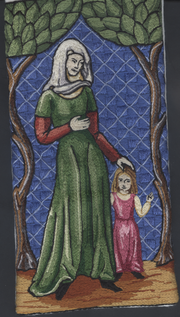 Despite not having picked up a needle since roughly the age of twelve, Matildis took a sudden interest in embroidery in about 2008. Specifically, she wanted to learn and attempt opus anglicanum or "English work", a style known for its incredibly dense stitching and luxurious color shading. The resulting project was an SCA belt favor made for her husband, depicting both her and their child. The belt favor took two years to complete, including a four-month hiatus toward the end; Matildis often said that their child was smaller than shown when the project began, and taller than shown when it was finished.
The completed image measured approximately four inches by seven; it was made with cotton embroidery floss on cotton muslin, rather than silk thread on linen as would have been done in period. The vast majority of the work was one in split stitch, with outlining in stem stitch and the background done in a modified satin stitch to conserve thread. While most period examples displayed a background of gold, one example did demonstrate a red background, thus paving the way for Matildis to avoid working with metallic threads for her favor.
After completion, Matildis was urged to document and enter the belt favor into A&S competition; it received a first place at regional, and a high second at kingdom. The belt favor was sadly destroyed in January of 2020.
Weaving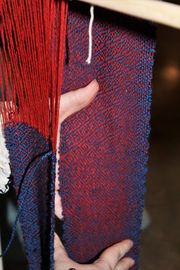 Matildis became interested in weaving in perhaps 2013 to 2015; not one to do things by halves, and wanting to understand how weaving worked, she ended up building a loom from PVC pipe according to instructions found in Kids Weaving by Sarah Swett. The loom was modified three times:
First Matildis adjusted the loom's overall measurements, making it larger than the planned instructions called for, so that wider fabrics could be constructed.
The original loom was designed for plain weave and tapestry use; Matildis added two shafts to make it possible to weave 2-1 twill and other three-shaft patterns.
Constrained by the warping method to fabric that was only twice as long as the loom's frame, Matildis added an apron bar and warp weights so that longer finished fabrics could be created.
The end result was a lightweight, portable, but ultimately strange loom which Matildis affectionately called the "Frankenloom", since it was cobbled together in so many different stages. The loom traveled to a few events including Pennsic, where it caught the attention of intrigued passersby. Approximately six projects, mostly belt width, were created with it.
While the Frankenloom was also destroyed in the house fire of 2020, plans and parts have already been purchased to create a four-shaft tabletop loom. See also The PVC Loom for more information.
Martial
Matildis has an occasional interest in archery, and an annoying habit of always hitting above and to the left of whatever she aims at, no matter what she does to correct it.
Service
Matildis has reluctantly conceded the argument that scribal work for the Crown qualifies as a service, but otherwise will insist that she is not in any way "a service goob". (All respect to those who are, because they make the Society go round.)
Classes Taught
Virtual Classes
The following classes were taught during the summer of 2020 as part of the Royal University of the Midrealm Virtual RUM sessions. There are tentative plans in place to improve upon some of these sessions with a video series, but no concrete date for when the videos will be made available.
Scroll Layout from Start to Finish

A three-hour Zoom session divided into three videos, discussing scroll layout, use of an Ames lettering guide, calligraphy, and simple illumination.

Raised Gilding

Gilding techniques using Jerry Tresser's Raised Gilding Preparation, a non-toxic recipe based on Cennini's period recipe for gilding gesso. The class demonstrated laying the gesso, burnishing, and laying 23k gold leaf, as well as texturing the gold with a stylus.

Black Hours Illumination

The multicolored illustration style of the Hours of Galleazzo Maria de Sforza, mimicked and demonstrated on an Artist Trading Card (2.5 x 3.5 inches).

Lombardic Capitals

Matildis demonstrated one approach to drawing and painting a style of capital that has been in use since at least the 1200s, as well as several possible applications.

Acanthus Leaf Illumination

Acanthus leaves varied throughout period; this class focused on the German style as taught in the Gottingen Model Book, covering a brief intro to drawing them and then how to paint and shade them.
In-Person Classes
These classes have been taught at Fall RUM in November of 2021, and will be taught again as opportunities present in 2022.
Using an Ames Lettering Guide

How to use the guide to create lines for a scroll text block, as well as a diapering grid for miniatures.

Ridiculously Easy Flowers for Border Illustrations

The border style of the mid to late 1400s emphasized speed and simplicity of its elements, which were then layered to produce the illusion of complexity. Many of the flowers are barely a step above doodling.

Black Hours Illumination

Based on the Hours of Galleazzo Maria de Sforza, as in the virtual class described above.
Articles
Intro to Modern Color Theory

Based on concepts taught in the book Blue and Yellow Don't Make Green by Michael Wilcox. The article discusses the value of a "double primary" palette in mixing colors with control and precision.

Scroll Layout and Design

How to plan a scroll, questions to consider, followed by how to lay out the foundations of the scroll; includes a brief discussion of period margins.
Videos
A number of videos, including recorded live streams of work on Bran Atte Rowan's knighting scroll, may be found on Matildis's YouTube channel. As of December 2021, plans are in the works to create supplemental videos to go with the Ridiculously Easy Flowers class, as well as improve upon the Black Hours video that is already up on the RUM YouTube channel.
Google Drive
All class handouts for the above, as well as both of the articles listed, may be found on Matildis's Google drive folder, for personal, non-commercial use only.
Awards
Baronial Awards
2001, Order of the Silver Acorn: for scribal arts
2002, Order of the Rivenstar: for forming and operating the Rivenstar Scriptorium
2021, Order of the Guiding Star: for inspiring others in the face of adversity
Kingdom Awards
Group Awards
Award of the Grove to the Rivenstar Scriptorium, May 10, 2003
Other Recognition
The Principality of Cynagua, West Kingdom, sent a scroll of thanks to the Rivenstar Scriptorium for their assistance in reducing the principality's scroll backlog, providing recipients with scrolls for awards that in some cases had been bestowed more than twenty years prior.
Miscellany
Matildis is portrayed by Heather Bungard-Janney; her spouse is Warder Gallien de l'Ile.
Outside the SCA, Matildis is an avid reader and writer of fanfic, and participates in two local small choirs as a soprano.
Scribal Gallery