Iosobail Mhic Leoid
From MiddleWiki
Photo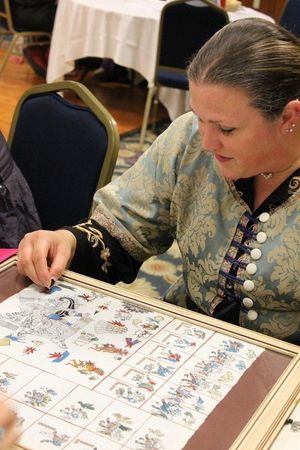 Iosobail at Kingdom A&S with her first Aztec scroll entry
Information
Heraldry

blazon
About this person
Persona
While she has a good Scottish name and persona, Iosobail likes to occasionally hang out in Renaissance Persia.
Offices & Positions
Current:
Former:
Deputy seneschal (of? Dates?)
Exchequer
Herald
Chatelaine
Quartermaster
Web minister
Autocrat/Co-Autocrat for Pounce, MKHSS
Administrator of Facebook pages for Midrealm Scribes, Red Spears Scribal Consortium
Miscellany
Iosobail is a protege to Master Konrad Mailander and a apprentice of Mistress Milesent Vibert
Interests and SCA-related hobbies
Calligraphy and Illumination, making her own paints, cooking, service.
Classes taught
Your first scroll
Eastern Kufic Arabic script
Aztec illumination
Science in the Middle Ages
How to teach
Music in the Middle Ages
Digital scroll reference resources
Persian illumination elements
Basic calligraphy
Making your own paint