Haus Mailander
From MiddleWiki
Household Heraldry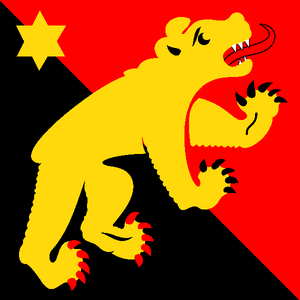 Per bend gules and sable, a bear passant bendwise sinister and in canton a mullet of six points Or
Information
Haus Mailander
Haus Mailander is a Midrealm household led by Meister Konrad Mailander, Order of the Pelican, Captain of the Red Company.
Heraldry
Badge: Per bend gules and sable, a bear passant bendwise sinister and in canton a mullet of six points Or.
Members of Haus Mailander
Meister Konrad Mailander, Head of Hausholt (household)
Herrin Anna Mailander, Konrad's mother
Lady Osanna Elze Mailander, Konrad's niece
Jasmine Mailander, Konrad's niece
Lady Isibél of Dunbegane, protégé (aka Iosobail Mhic Leoid)
Lady Sorcha Ruadh inghean Lochlainn, protégé
Baron Raffaele da Cernia, protégé
Baroness Margherita di Raffaele, protégé
Lady Avigayl bat Avraham, protégé
Lord Brandon Hogan, man at arms
Lord Jan Tulleners, man at arms
Dalila Tulleners
Lady Meredith Smythe
Lady Felicty Smythe
Rebekah Smythe
Lord Roger of the moors
Affiliation
As Konrad is very active in Haus Brandenburg, the hausholt of Baron Gunther von Brandenburg the knight Konrad is squired to, members of Haus Mailander are encouraged, though not required to join Haus Brandenburg as well. All the current members are also members of Haus Brandenburg, making Haus Mailander effectively a cadet branch of Haus Brandenburg.