House Fox Rose
From MiddleWiki
Household Heraldry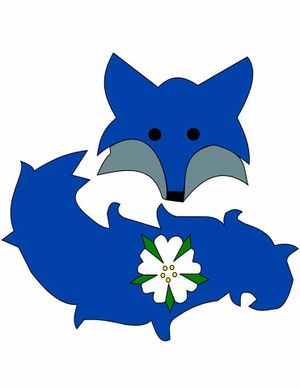 N/A
Information
"Honor, courtesy and noblesse, foremost"
House Fox Rose is a Midrealm household led by Sir Guerric der Wilde Fuchs and Mistress Acelina of Derelei. It consists of over 50 members, primarily in the Midlands and Constellation regions and the strongest concentration in the Barony of Ayreton.
Members
| | |
| --- | --- |
| Sir Guerric's Dependents | Mistress Acelina's Dependents |
| Sigandus (S) | Kendra Cameron (P), Mistress of the Pelican |
| Quenild of Mercia (S) | Rois Alann inghean Ui Fhlaithbheartaigh (P) |
| Duncan the Monster (S) | Thomas der Kreuzfahrer (P)(†) |
| Reymond (S) | Tieron Alauinn (P) |
| Hugh (S) | Cezara cel Asemanare (P) |
| Kenwrec Wulfe (fS) | Rudolf Thomasson (s) |
| Ehrenfried Schertenleib (fS) | Helga (s) |
| Fergus MacPherson (S) | |
| Brigid (MaA) | |
| Petru (MaA) | |
Additional Family Members
Abbess Katherine von Schlosserwald
Katarina MacMolan
Ehrenfried Schertenleib
Master Ercc Glaison
Baroness Zafirah of the White Waters
Sarah von Brandenburg
Rudolf Thomasson
Mistress Roana Aldinoch
Sir Sabah al Rashid
Johara
Gavin White of Westburgh
Amalasuentha
Mistress Hillary of Langeforde
Bebhinn
Mistress Sofya Chyudskaya Smolyanina
Anna
Cezara cel Asemanare
Petru Urs Luptara
Gareth
Mistress Keiley Duchem
Eadric the Smith
Carol of St Carol on the More
Zhou Mei
Griffin
Gerhard Berwulfus
Alyse Smith
Bartomeus di Ripa
Kyriakus
Duncan Burns
Brynn Herleifsson
Oswyn of Badon
Gertrudis of Wurmwald
Ursul Wilhelm
Master Genevieve Chastisse de Vaucresson
Lilith (FoF)
Fergus MacPherson
Mistress Maggie MacKeith
Durenza
Melissande
Haru
Baron Andreas Blackwode
Laura Blackwode
Charlie Blackwode
Ben Blackwode
Lucretia Marcella
Edvard Godulfr
Durenza
Kitta Godulf
Rhys of Fox Rose
Onnencrieca filla Dunocati
Catriona
Duchess Brigh
Baroness Hillary (FoF)
Baron Gareth (FoF)
And others....
KEY: S - Squire, P - Protege, s - Student, fS - foster Squire, † - gone but not forgotten, FoF - Friend of FoxRose, MaA - (Wo)Man-at-Arms
Website