Genevieve Chastisse de Vaucresson
From MiddleWiki
Photo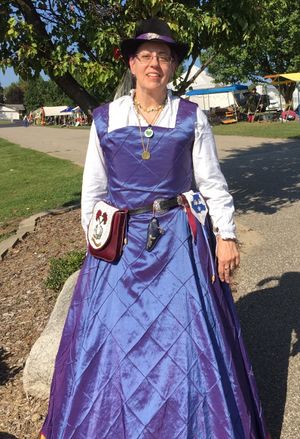 Genevieve Chastisse de Vaucresson
Information
| | |
| --- | --- |
| Resides: | Shire of Caer Gwyn, Midlands, Midrealm |
| Status: | active |
| Awards: | Visit the Order of Precedence to access a list of this person's awards. |
Heraldry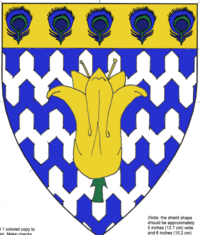 registered arms
Persona
I am "Genevieve Chastisse de Vaucresson", a 16th century French woman, the daughter of a farmer with properties on the outskirts of Paris. My mother died when I was 8 and my two older sisters married off before I was 11, so I was fostered out to a local noble lady for my training in the domestic arts.


During a period of some travelling around Europe for my education in my late teens, I ran away from my chaperone after falling for a charming mercenary whom I desperately attempted to follow. That did not end well. From there, I spent time in Italy where I was 'adopted' by and became friends with a group of ladies from Istanbul who in sharing with me the foods and dances of their lands gave me a love for all things eastern.


Later, in 1569, my path took me to England where I found I could make a living as a seamstress to the noble ladies of the Queen's court. But, getting itchy feet after a few years I returned to Italy, caught a boat with my friends to Istanbul, and shortly after that a merchant train to India. Ended up in the court of Akbar as a handmaiden to Jodhaa. But, court life was dull, so I dressed up as a man and went out with the army and learned to ride a horse and shoot a bow.


Eventually the guys decided a nice 'boy' like me needed a wife and fixed me up with a cute Russian girl I ran into and made friends with in Kashmir, and next thing we knew we were married. She doesn't mind, I'm in heaven, and my army buddies still don't have a clue that 'Veer' isn't quite the man he seems.


Offices & Positions
Deputy Midlands Archery Marshall, 2018-present
Archery Marshall, Shire of Wurm Wald/Caer Gwyn, 2016-present
Arts Champion to TRMs Seto and Ynes 9/2019-5/2020
Exchequer, Shire of WurmWald 2013-2014
Chronicler, Shire of Swordcliff 2007-2012
Web Minister, Shire of Swordcliff 2002-2012
Seneschale, Shire of Swordcliff 1999-2001
Chatelaine at Large, Middle Kingdom 1997
Chatelaine, Shire of Far Reaches 1987-1996
Seneschale, Shire of Alte Kaempe Feld, Drachenwald 1984-1986
Chatelaine, Barony of Bjornsborg, Ansteorra, 1982-83
Minister of Arts, Shire of Far Reaches 1980-1981

Note:As an severely sensitive introvert with ADD, it is unlikely that I will ever be able to contribute by taking on a Kingdom office, due to what would be, for me, a possibly toxic-ly overwhelming amount of interaction and information. I really wish I were capable of serving in a higher office, however I would happily support anyone holding such an office in any way possible.


Awards and Recognition
Royal Augmentation of Arms, May 2020
Award of the Dragon's Barb, July 2017
Order of the Dragon's Heart, January 2016
Order of the Laurel, Elizabethan costuming, March 1996
Purple Fret, scribal contributions
Order of the Willow, calligraphy & illumination, May 1991
Purple Fret, feastocrat
Principality Company of Sojourners (Drachenwald) Oct 1986
Order of the Sable Thistle, costuming (Ansteorra) 1983

Archery Champion, Proto-incipient Shire of Caer Gwynt, 2016
Middle Kingdom Arts and Sciences Faire: First Place, Costuming
Midlands Regional Arts and Sciences Faire, First Place, Costuming
Ansteorra Arts and Sciences Faire: First Place, Costuming, 1982

Additional Work
Elevation Major Domo, Laurel Elevation of Reyni Hrefna., April 2020
Judge, Tournament of Arts, Kingdom 12th Night, Jan 2020.
Royalty Liason, Festival of Maidens, January 2020.
Lunch Steward, Baroness Wars, August 2019
Coordinator, interkingdom "Those We Remember" display, SCA 50-year celebration
Translation of Kingdom Arts and Sciences Faire Criteria into XML(accessible) format, Dec 2017.
Elevation Major Domo, Pelican Elevation of Sofya Chudskaya Smolyanina., Nov 2017
Lunch Steward, Baroness Wars, August 2017
Project Director, Caer Gywnt "Heart of the Midlands" Entry, May-Aug, 2017
Kitchen staff, State Dinner, Pennsic 48
Kitchen staff, ToC, Summer 2017
Royalty Liason & Royal Lunch, Festival of Maidens, January 2017
Feast Steward, Crown Tournament of Edmund and Katryn, October, 2016
Royal Lunch, Festival of Maidens, January 2016
Feast Steward, Festival of Maidens, January 2013
Registration and Gate coordinator, Festival of Maidens, January 2013 & 2014
Feast Steward, Rogues Day/Midlands A&S Faire, Swordcliff, March 2011
Feast Steward, Rogues Day, Swordcliff, Apr 2010
Feast Steward, Coronation of Dag and Elayna, Sept 1998
Author: Pre-Pennsic Packing Planner, 1997
Feast Steward, Return of the Dragon, Far Reaches, May 1993
Feast Steward, Quest, Far Reaches, Sept 1990
Event and Feast Steward, Peasant's Revolt, Alte Kaempe Feld (Drachenwald), June 1985