Cerian Cantwr
From MiddleWiki
Photo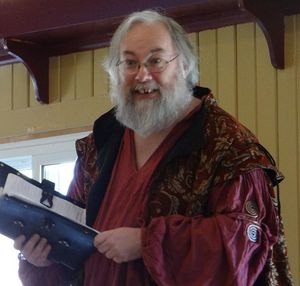 Cerian Cantwr
Information
Heraldry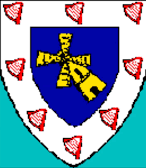 Azure, a windmill bendwise Or within a bordure argent semy of harps gules.
Persona
Welsh
Households and Dependencies
Cerian is a former apprentice of Baron Master John Inchingham (known as The Fool) and is a member of the House Sans Nomen
Cerian's Apprentices:
1) The Honorable Lady Beatrice De Winter (current Senior Apprentice)
2) The Honorable Lady Juliane Bechaumpe;
3) The Honorable Lord Llywelyn Glyndyverdwy (called Llywelyn Glyndwr);
4) Lady Hilla Stormbringer;
5) Lady Siobhán an Einigh of Connacht (shared with Mistress Katriana op den Dijk of Calontir).

Projects
Master Cerian runs the bardic song repository Midbards & Friends

He is also one of the four Jesters of the Apocalypse, along with Master Alexander de Seaton, Master Midair, and Master Dahrien Cordell. They have been given Carte Blanche for tomfoolery and bardic mayhem by the Baron of Illiton - HE Master John Inchingham.

Offices & Positions
Awards and Achievements
Laurel
Dragon's Heart
Evergreen
Willow
Purple Fret
Cavendish Knot
AoA

Kingdom Bard
Other