Siobhán an Einigh of Connacht
From MiddleWiki
Photo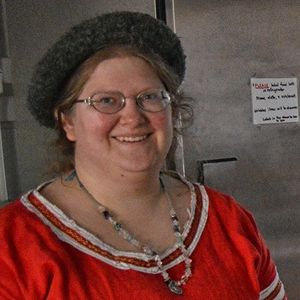 Siobhán
Information
Heraldry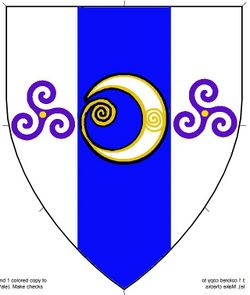 Argent, on a pale azure between two triskelions of spirals purpure, an increscent argent.
Persona
Siobhán an Einigh of Connacht is an Irish filidh bard from the kingdom of Connacht, which became the western region of what we now called Ireland. She lived during the tumultuous times surrounding the rise of Brian Boru to power during the early 1000s. She is actually against Boru in the conflict, as Boru's men destroyed her family's lands, leaving her homeless. Where beforehand she entertained as a bard-in-training, made books, and hunted rabbits for the family table, now she sings battle songs, makes armor and hunts in service to her Connachta lords. She is fostered to a formal bardic clan and continues her training as a filidh (ranked) bard.
Households and Dependencies
Apprentice to Mistress Katriana Op Den Dijk of Calontir - she runs the Calontir song page Calonsong!
Foster Apprentice to Master Cerian Cantwr and the associated House Sans Nomen
Protege to Master Etienne le Couteau des Roches
Projects
I dabble in everything in the SCA with four notable exceptions (rapier, equestrian, C&I, and dance), but I primarily focus on early Irish culture as a whole, from my garb, armor, food, language, etc. I can translate things into several Celtic languages, particularly Irish, Old Irish, Welsh, Scottish Gaelic, and Scots. I am working on translating the major award texts into Irish and Welsh at this time - let me know if there's something you'd like done!

I am currently planning a Pentathlon for 2019

Bardic
See me on Midbard! I usually have a couple pieces in progress!

Classes
"Early Period Bookbinding" - a hands-on Carolingian bookbinding class
"Limp Bookbinding" - a hands-on class on limp binding techniques
"Early Irish Persona Basics" - a review of garb, the geography of Ireland, the history of the area, and some fun Irish phrases!
"Early Irish Garb" - like the persona basics, but delving more into garb.
"How to Teach a Class" - a class teaching class, often taught as a roundtable
"Found Object Instruments: the Bagpipe" - a hands-on class to make a simple bagpipe out of everyday materials
"Found Object Instruments: the Bodhran" - a hands-on class to make a simple frame drum out of everyday materials
"Early Irish Shoes" - taught as either a hands-on pattern making class OR a discussion/demonstration of footwear in early Ireland
"What the Ffwc: Celtic Pronunciation Class" - The basics of Irish and Welsh pronunciation.
"Bardic Circle Basics" - Some ideas and suggestions to run your very own bardic circle or performance space.

Heavy Fighting
- Authorized fighter since Mar 18, 2013. Authorized at Melees and Mayhem 2013 in Calontir.
- Authorized in Sword and Shield, Two Sword, Greatweapon, and Combat Archery
- Combat Archery Marshal as of Oct 31, 2016 - contact me if you want to auth CA!
- Heavy Marshal as of June 2017

Archery
- Warranted Archery Marshal as of Mar 2013. Warranted in Calontir, transferred to Midrealm
- In progress - finding a place to hold archery practice on the North Side of Chicago

Offices & Positions
Current Offices
Canton of Grey Gargoyles
- Herald, Archery Marshal

Barony of Ayreton
- Deputy MOAS under M Acelina of Deralai, 2nd Deputy Herald under THL Solgai "Moose"

Regional Midlands
- Deputy Archery under THL Robert Thorne - stepping down once a new deputy is found

Kingdom
- Youth Background Check Deputy

Events
- Feast Herald for Foxhunt, Sept 2018 - Event Steward for Bardic Madness 20, in Oct 2018


Past Offices and Positions
Calontir - Shire of Crescent Moon Crescent Moon
-Exchequer 2012-2013
-Archery 2011-2013
-Co-Autocrat - Melees and Mayhem 2012
-Autocrat - Melees and Mayhem 2013


Midrealm
- Canton MOAS Grey Gargoyles 2015-2017
- Canton Chatelaine Grey Gargoyles 2015-2017
- Canton Herald Grey Gargoyles Mar 2017- Oct 1 2018
- Imbibin Class Coordinator for Scribin' & Imbibin 2017
- MiC for Day of Playe 2017
- Event steward for Scribin' & Imbibin 2018
- Archery MiC and Feast Herald for Ragnarok Rampage, in June 2018

Awards and Achievements
AoA Simple
Purple Fret
Torse (Calontir Service AoA)
Willow
Dragon's Heart


Pleiades of Ayreton Apr 2016 for banner making and diverse efforts
Pleiades of Ayreton Oct 2017 for heavy marshaling, CA marshaling, and CA
Leo of Ayreton Mar 2018 for A&S activities

Midlands A&S Champion, 2017
Pentathlon entrant, 2017 - based around Irish culture: a polaire (leather book bag), ensemble garb, solo garb piece, Bardic performance, and meads! Barony of Ayreton A&S Champion, July 2018-pres

Other
I sporadically update a blog on my experiences in the SCA, called Ramblings of an SCA Bard it is linked on our Midrealm Blogs page!