Tyzes Sofia
From MiddleWiki
Photo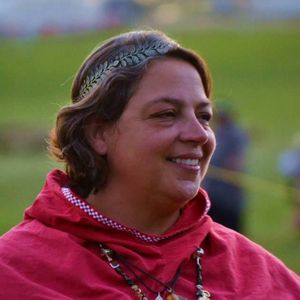 Tyzes Sofia
Information
Heraldry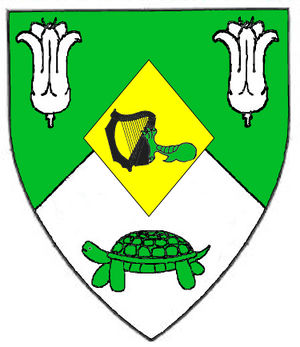 Per chevron vert and argent, two lilies and a turtle statant counterchanged, and for augmentation in fess point on a lozenge Or, a harp sable sustained by a dragon's jamb fesswise vert.
Better known by her nick-name Zsof, Mesterno Tyzes Sofia is best known for her storytelling, singing and work in the Bardic community and with the Pennsic Players. She is a former member of Duke Dagan du Darregonne's Household, Red Winged Lion, and was his protege.
Persona
Hungarian, note the Hungarian tradition of putting the family name first. If she were English she'd be Sofia Tyzes.
Offices & Positions
Minister of the Lists (East Kingdom) 1996 – 1998
Chronicler
Dean of College of Performing Arts & Letter, Royal University of the Midrealm: 2007 - 2009
Dean of Midrealm Page School: 2007 – 2009
Minister of Youth
Marche of Gwyntarian: 2004 - 2006
Midrealm: 2009 – 2011
Barony of the Cleftlands: 2015
Reign Support:
EikBrandr and Runa (2009 and 2011)
Pennnsic War Staff
Director of Performing Arts Pavilion (2005)
Deputy for Performing Arts Pavilion (2004)
Event Steward
Black Tower (East Kingdom) (1997)
Return of the Empire (Gwyntarian) (2004)
Bardic Madness VIII (2006)
Regular Event in the Cleftlands (co-event steward) (2008)
Bardic Madness XI (co-event steward) (2009)
Rose Tourney (2011)
Regular Event in the Cleftlands (co-event steward) (2017)
Event Staff
Northern Oaken War Manuevers: Class Coordinator, Royalty Liaison, Youth activities, and various duties as needed.
Regular Event in the Cleftlands: Breakfast Tavern, Royalty Liaison, and various duties as needed.
Arts and Sciences
Founded and Directed the Known World Players (2000 – 2010)
Royal bard
Co-founder of I Verdi Confusi (2008)
Winner, Gulf Wars War Bard competition (2011)
Taught numerous classes including
Children's Theatre
Acting Shakespeare
Everyman: The Morality Play
Performing In Front of an Audience
Beginning Shakespeare
Songs of the Middle Kingdom
History of Theatre in the Middle Ages
Commedia del Arte
Introduction to Acting
Shakespeare's Fools
Forming a Theatre Troupe in the SCA
Zsof's Rules: Being a Chivalrous Person
Awards
Award of Arms - June 13, 1998 (A.S. 33)
Order of the Evergreen - January 17, 2004 (A.S. 38)
Award of the Purple Fret - January 29, 2005 (A.S. 39)
Royal Augmentation of Arms - October 3, 2009 (A.S. 44)
Order of the Laurel - September 24, 2011 (A.S. 46)
Award of the Doe's Grace - May 5, 2012 (A.S. 47)
Royal Augmentation of Arms - April 12, 2014 (A.S. 48)
Order of the Troubadour (East Kingdom) - August 7, 2014 (A.S. 49)
Laurel Lineage
Zsof was apprenticed to Master Johannes, but the two had a parting of the ways and so she was not an apprentice when elevated to the Laurel however, she was a student of Master Philip White.
Zsof has had the following students and apprentices elevated to the Order of the Laurel:
Judith the Uncertain (co-student with Master Philip White) (East Kingdom)
Her current dependents include
Apprentices:
Lasair Inghen Ui h'Airt (Atlantia)
Eadaoin Ghormshuileach
Rowen Hen Enaid
Lucas Abernathy
Interests and SCA-related hobbies
Bardic arts and theater, Hungarian studies