Master of Arms
From MiddleWiki
Order of Mastery of Arms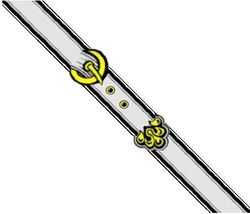 Information
| | |
| --- | --- |
| Blazon: | (Fieldless) A white baldric. |
| Registered: | June 1982 |
| to: | SCA |
A Society-wide order that carries a Patent of Arms. This, along with the Knight is the highest recognition one can receive for martial prowess within the Society. Both Masters and Knights are members of the Chivalry and equal in rank to the Laurel, Pelican and Defense. The badge for this order is (Fieldless) a white baldric. Companions of this order are titled "Master" or "Mistress" and may put the abbreviation MSCA behind their name.
Masters of Arms are not required to swear fealty (unlike Knights) but have the option to swear or not as they so choose. When in fealty to The Crown, they may also wear an unadorned gold chain.
Masters of Arms of the Middle Kingdom
As of 2011, there have been 11 Masters of Arms made in the Middle Kingdom.
Komura Shimitsu -- 29 May, 1976 (A.S. 11)

Moonwulf Starkaaderson -- 29 May, 1976 (A.S. 11)

Thorbjorn the Graysides (Deceased?)-- 15 Oct, 1977 (A.S. 12)

Knut Osterstrom -- 03 May, 1980 (A.S. 15)

Brummbar von Schwarzberg -- 18 Oct, 1980 (A.S. 15)

Corwyn Dragonstar -- 03 Oct, 1981 (A.S. 16)

Einar Haakonsson -- 25 Jul, 1987 (A.S. 22)

Chen Yung Ho -- 30 Mar, 1996 (A.S. 30)

Eirik Dweorgaxe -- 13 Apr, 1996 (A.S. 30)

Rin Ravenfoe -- 13 Mar, 1998 (A.S. 32)

Patrig MacMorcat -- 12 Sep, 1998 (A.S. 33)

Ratimir Staryjezvec -- 16 Jan, 2016 (A.S. 50)

Please note that these are only gentles that were residents of the Middle Kingdom at the time of their elevation to the Order of Chivalry.