It Takes My Child to Raze a Village
From MiddleWiki
An annual event hosted by The Canton of WealdLake in the Barony of North Woods allowing people of all ages to open their eyes, inhale deeply, taste, touch, learn, and experience the Society for Creative Anachronism together.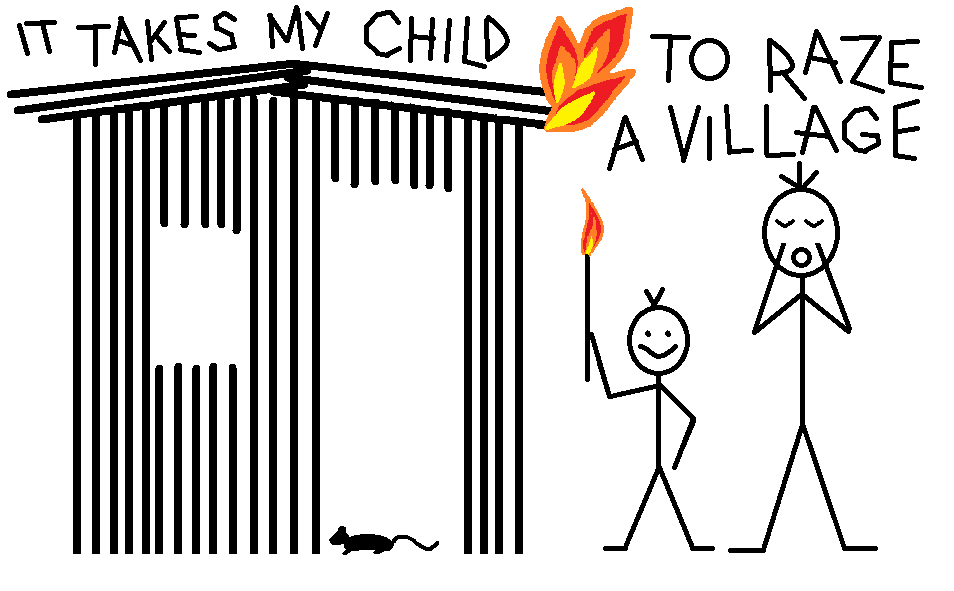 History
In 2005, the WealdLake Minister of Youth, The Honorable Lady SaehildR barngothR (formerly Lady Seadhli Tova) aka Lady Silly noticed that there were no events in the Middle Kingdom that were focused on the SCA family. In 2008, Wealdlake agreed to fill that void with an event where parents and children play together. (It took her that long to convince her canton members that fighters would come to an event that did not feature adult fighting.) After the success of the event in Wealdlake, the event has grown to have a (sometimes) Pennsic Edition at Youth Pointe, and copies in other kingdoms.
Virtual Versions
In 2020, the world and the SCA shut down mid-March. ITMC XII was planned for April of that year and had to be cancelled. On the day the event was supposed to have occurred, Lady Silly had a sudden idea and posted about 9 posts to the Facebook event page encouraging families to make their own mini-event. From the breakfast cereal she was eating in the morning, to a spoon siege weapons class to a DIY Plague Game (balled socks) she shared the essence of the event in a simple form.
When the world had yet to reopen as the Canton of Wealdlake was planning for 2021, they decided to plan the event as a Virtual One again.
It Takes My Child to Raze a Virtual Village took place exclusively online on April 24, 2021. There were 24 activities/classes plus a welcome video by Lady Silly (and a bonus blooper reel) [1]
Purpose
To provide opportunities for the families of the SCA to come together and play! To get children, teens, and adults interested in an A&S or Combat activity that they have never thought to try! To introduce new families to the wealth of activities they can do together. To have fun!
The VERY best thing about It Takes My Child to Raze a Village (ITMC), is that it shares the wonders of our hobby with the next generation. It entices kids away from screens, and gets them doing physical activities, interacting with peers and adults, and letting their creativity flow! It allows them to open their eyes, inhale deeply, taste, touch and learn to experience the Society for Creative Anachronism on their own level. It brings folks of all ages and abilities together for one purpose.
All-Ages A&S Challenge
It is THL Sæhildr's belief that A&S Competitions, or any competitions for that matter, are important for the development of children. Children not only need to learn how to be good losers, but also how to be good winners, and without competitions with clear winners and losers, this can not happen. Competition also challenges the child to take pride in what they are creating, and work harder at it in order to do better next time. However, competition also needs to be on an equal skill-level basis. It is not fair for a five-year-old to compete with a twelve-year-old. The skill sets and abilities are not the same.
Categories
Duckling (5 years & Under), I(6-8 yrs), II(9-12 yrs), III (13-17 yrs), Adult (18+)
Decided by Populace Bean Count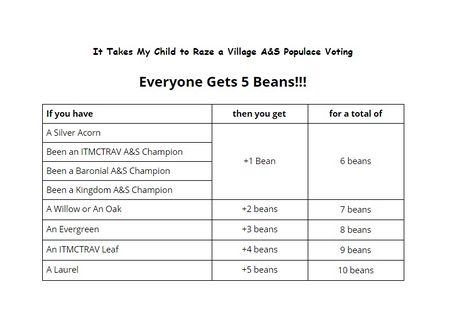 A completed form is required for each entry. (Small children can certainly have adult assistance, both in their project and filling out the form.) Teens and adults are requested to have at least one form of documentation, although that is a new addition added in 2014.
Some examples of past projects:
Duckling/5 & Under - Turnip Soup, Armored Turnips, finger-woven cord, sewing (a small pouch), honey butter
I/6-8 years - period baked goods, an illuminated letter, felting, whipcord, embroidery, clay board game pieces, butter
II/9-12 years - an illuminated scroll blank, candle clocks, sewing projects (pillow, chemise, Jorvik cap, etc.), churned butter, German Snow recipe, a gorget, basket-weaving
III/13-17 years - fencing buckler, henna (handmade recipe and a photo portfolio), Japanese Calligraphy and artwork, an outfit
Adult/18+ years - Anything you would see in any other SCA A&S Bean Count!
Unique Activities
Breakfast with the Baron & Baroness of North Woods
Breakfast is included in the Site registration! Sometimes it is bagels, other times it is breakfast cereal but there is always coffee and juice!
All-day Activities
In addition to one-time A&S classes, youth armored combat, youth rapier combat, thrown weapons, archery, shopping, and siege weapons, there are activities that repeat and run concurrently throughout the day. Some examples: Smelly Science (featuring a smelling station of Medieval scents, and a hands-on creation activity where children and adults get to make and take something that smells nice and is useful in SCA life), Henna Tattoos (period body art!), a service activity (usually an A&S creation to be gifted to the Midrealm Crown at a later event, or something helpful to do onsite), The People-a-Pult (a family member sits on a bucket, and 'cups' their hands together in front of them. A bean bag is placed in the 'cup', another family member "aims" and "fires" the bag goes flying toward the target!)
Mandatory Lunch Hour
During which all-day activities and classes cease, giving event staff a chance to use the bathroom, eat, and maybe even sit down! Also allowing dedicated time for the Mom2moM Garb Swap, Merchant Booths, and A&S Bean Count voting. There is usually a performance to enjoy as well.
Mom2moM Garb Grab
An opportunity to clean out your garb closet and also add to it! One mom's trash is another mom's treasure! Rules: You don't have to be a mom to swap. You don't have to add something to take something. You don't have to take something to leave something.
Pre-Court Large Group Activities
An hour before Court, all activities get closed down and everyone present at the event (minus our court set-up crew) gather together for some gross-motor games to help get the wiggles out!
Duckling Race


The Baron & Baroness/King and Queen (or King and his Squires) set the time to beat. Then each family gets one try to beat their time. Smallest person in front, Tallest in back, each person holding the shoulders or waist of the person in front of them --the front person flaps their elbows and everyone quacks as loud as they can as they run a pre-determined course. Since 2019, We have three lines going at once! It's chaotic but fun!
The Plague Game
Adults vs. Kids. Stuffed Rats flying through the air! When HOLD is called you drop your rats. Winning side still helps with clean-up.
Ballista Demo
Lord Roderick McKracken brings his Ballista and gives a hands-on demo.
Family-Friendly Court
How to Accept an Award
When your name is called, stand up quickly so they know you are present. Quickly make your way to the middle front. Remove any weapons from your person. Set them down on the ground in front of you and carefully step over them. Bowing - if there are Barons/Baronesses on either side of the people holding court then bow to the ones on the Right first, then the Left, then bow in the middle. If there is only one couple, just bow one time. Walk all the way to the cushion and if you're kneeling use the pillow. If you cannot kneel, just stand close to the cushion. Listen to what they say (only good things happen in court) Say thank you if they hand you something. Wait to be dismissed. Stand, and bow again. If you came up any stairs, turn around to safely dismount. Walk back to your weapons, gather them and return to your seat.
Challenge Champions
Challenge Champions are announced, in addition to the Duckling Race Winners. Winners receive a handmade scroll and since 2016, a felted favor - in 2018 Warder Tristan Silvertoes and Lady Gredechen Lopsengen designed lovely embroidered patches for the favors! Which saves Baroness Alianor bat Asriel time as she used to hand make them in addition to all the event scrolls. .
Special Awards
The Spark: to the youth/child who embodies the spirit of the event
The Torch: The Family the event staff felt embodied the Spirit of ITMCTRAV that day, The Torch gets to be the Facebook Profile Photo if they so desire.
Peer-Like Quality Awards
These awards are very carefully awarded to a Child or Youth in whom we see certain qualities. These children/youths are not just judged by their actions that day, but on how they have behaved at events, practices, and activities throughout the previous year. The recipients receive a scroll, special favor and a belt woven by Lady Bryn Archer.
Ruin-Your-Dinner Ice Cream Social
Ice Cream, Horatio Archer's Homemade Root Beer, and Service Challenge Prize Drawings
Hosted Group
It Takes My Child to Raze a Village is hosted in the Middle Kingdom by WealdLake, a canton of Northwoods.
External Links
More information on the event can be found at SCAKids.org.
Canton web site: http://www.wealdlake.org
Facebook Page: https://www.facebook.com/ITMC2RaV
The Mom2moM Garb Swap is in Issue #193 of Tournaments Illuminated - THL SaehildR contributed to the Quest article focused on Children's Garb [2]
The ITMC Youtube Channel: [3]