Cecily O'Donell
From MiddleWiki
Photo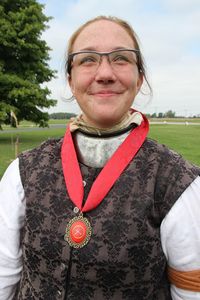 Photo by Sarah McNabb
Information
Heraldry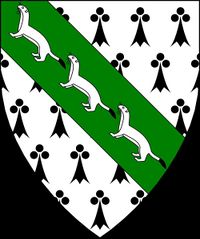 Ermine, on a bend vert three ermines statant argent
Persona
16th Century Irish

Offices Held
Regional Deputy Social Media Officer - Rapier
November 2018 - Present
Sternfeld Deputy Social Media Officer
October 2018 - Present
Meadows Herald
October 2017 - Present
Deputy Dean for Rapier, RUM College of Martial Arts
September 2017 - Present
MiddleWiki Graphics Editor
August 2017 - Present
Constellation Regional Rapier Marshal
December 2016 - Present
Sternfeld Archery Marshal
May 2016 - May 2017
Chief of Staff for Rapier
August 2014 - January 2017
Sternfeld Rapier Marshal
June 2014 - November 2016
Sternfeld Deputy Archery Marshal
August 2013 - April 2016
May 2017 - Present
Sternfeld Deputy Rapier Marshal
June 2013 - May 2014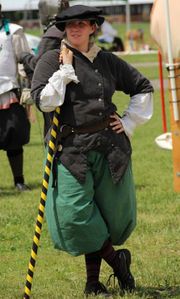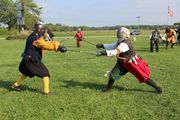 Event Staff Positions Held
Class Coordinator, A&S
Middle Kingdom Academy of Defense
August 30 - September 1, 2013
Event Steward
Better War Through Archery
March 1, 2014
Sternfeld Baronial Yule
January 26, 2019
Royalty Liaison
Coronation of Cameron & Amalie
May 2-3, 2014
Better War Through Archery
February 2, 2015; March 30, 2019
A Simple Day in the Country
July 13-5, 2015; July 6-8, 2018
Class Coordinator, Rapier
Constellation Academy of Defense VII, VIII, IX, X, XI,XII
May 16-18, 2014; May 8-10, 2015; May 28, 2016; May 12-14, 2017; June 1-3, 2018; May 10-12, 2019
Marshal in Charge, Archery
Spring Crown/Kingdom A&S
May 24-25, 2014
Better War Through Archery
February 4, 2016; February 6, 2017
Volunteer Coordinator
Fall Crown Tournament
October 19, 2013
Spring Crown/Kingdom A&S
May 24-25, 2014
A Simple Day in the Country
July 11-13, 2014
Better War Through Archery
February 2, 2015; March 31, 2018
Lodging Coordinator
A Simple Day in the Country
July 11-13, 2014
Marshal in Charge, Rapier
A Simple Day in the Country
July 7-8, 2016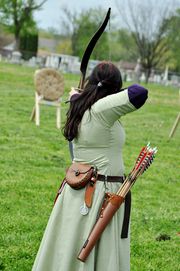 Miscellaneous Positions Held
Warranted Rapier Marshal
May 2013 - Present
Warranted Archery Marshal
July 2013 - Present
Pennsic Rapier Battlefield Staff
January 2017 - Present
Constellation Regional Archery Champion
July 6, 2013 - July 12, 2014
Pennsic Archery Champions Team
Pennsic 42 (2013)
Pennsic 43 (2014)
Pennsic Rapier Champions List Minister
Pennsic 42 (2013)
Pennsic 43 (2014)
Pennsic 44 (2015)
Crown Tourney MOL/Herald Assistant
May 2014 - October 2017
Kingdom Archery Champion
May 25, 2014 - September 27, 2014
Fencer X, 5.0
September 2015 - December 2015
Sternfeld Rapier Champion
January 16, 2016 - January 17, 2017
Pennsic Rapier Champions Team
Pennsic 45 (2016)
Dragon's Rose Challenge 2.0 Regional Cheerleader
August 2016 - August 2017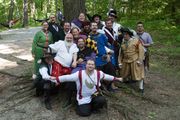 Classes Taught
Intro to SCA Rapier
This class is geared toward complete beginners, but can be adapted for crossovers as well.
Rapier MiT 101
This class covers the entire Marshal in Training process for rapier, start to finish, and earns participants one administration signature.
Rapier Tourneys and How to Run Them
This class is aimed at marshals and any others who wish to act as List Minister for rapier tournaments. It covers the basics of how the most popular tournament formats run, as well as what paperwork/materials are needed to run tourneys and how to fill out pool sheets and brackets.
Intro to Silk Banner Painting
This class is still in the planning stages, but has been offered to one test student. The long version will take students from design to finished product, and will likely take all day. The short version will take students from resist application to finished product, and should take two-three hours. In both versions, students will have a small banner to take home at the end of the class.
Herding Cats: Tips and Tricks to being an Effective Class Coordinator
This class will walk students through the process I use as Class Coordinator. Having done this job for various events over the past several years, I've gained a lot of knowledge I didn't have the first time around, and sharing that knowledge seemed like a good idea.
Painting Heraldic Bling Boxes
This class teaches how to paint a box with their chosen heraldic design. Students will leave with a small box that is, at the very least, in progress.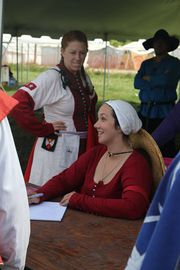 Publications & Projects
Midrealm Rapier Marshal's Handbook
Released May 21, 2014
Pennsic Rapier Champions Tourney Handbook
In the editing stage, to be released before Pennsic 48
Midrealm Rapier List Minister's Handbook
In Progress
Silk and Embroidered Banners
SCA Banners Facebook Album

Photo Albums
Note: All photo albums are currently on Facebook. They are all set to Public, but you will still (probably? I think?) be required to login to Facebook to view them.
Simple Day 2018; Sternfeld Baronial Birthday 2018; Martial RUM 2018; Spring Crown 2018; Better War Through Archery 2018; Val Day 2018; Festival of Maidens 2018; Fall Crown 2017; Rose Tourney 2017; Coronation of Cellach II and Vukasin II; Harvest Days 2017; MKAOD 2017; Pennsic 46; Simple Day 2017; Border Skirmish 2017; Martial RUM 2017; Kingdom A&S/Spring Crown 2017; Constellation Academy of Defense X; Three Saints and a Sinner; Grand Pageant and Tournaments of Chivalry and Greenwood; Tournament of Defense 2017; Festival of Maidens 2017; Flame Christmas Tourney 2016; Red Dragon 2016; Rose Tourney 2016; Middle Kingdom Academy of Defense 2016; Baroness Wars 2016; Simple Day 2016; 50 Photos for 50 Year; SCA 50 Year, album 1; SCA 50 Year, album 2; SCA 50 Year, album 3; SCA 50 Year, Arthurian Deed; SCA 50 Year, Kingdom Banners; Border Skirmish 2016; Kingdom A&S/Spring Crown 2016; Coronation of Cameron II and Amalie II; Three Saints and an Investiture; Martial RUM 2016; Gulf Wars XXV; Val Day 2016; Festival of Maidens 2016; Tree-Girt-Sea Twelfth Night 2016; Flame Christmas Tourney 2015; Known World Academy of Rapier 2015; Fall Crown Tournament 2015; Rose Tourney 2015; Pounce 2015; Simple Day 2015; Border Skirmish 2015; Spring Crown 2015; Coronation of Ragnvaldr III and Arabella III; Grand Tournament of the Unicorn 2015; Martial RUM 2015; Gulf Wars XXIV; Winter's End 2015
Awards
Baronial
Award of the Sternfeld Yeoman (August 14, 2012 – AS 47)
Award of the Nova
Award of the Winged Crescent (May 30, 2017 – AS 52)
Order of the Golden Tower (August 1, 2015 – AS 50)
Order of the Sternfeld Border Guards (January 17, 2017 – AS 51)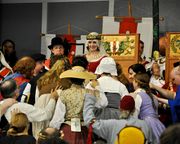 Kingdom
Award of the Dragon's Teeth (August 4, 2014 – AS 49)
As a member of the Sternfeld Baronial Unit
Order of the Royal Vanguard (September 27, 2014 – AS 49)
Award of Arms (August 1, 2013 – AS 48)
Order of the Cavendish Knot (February 7, 2015 – AS 49)
Order of the Dragon's Barb (March 1, 2014 – AS 48)
Award of the Purple Fret (May 3, 2014 – AS 49)
Award of the Purple Fret (October 28, 2017 – AS 52)
Order of the Willow (July 1, 2017 – AS 52)
Company of the Bronze Ring (July 9, 2016 – AS 51)
Order of the Dragon's Heart (July 7, 2018 – AS 53)

Heraldic Offices