Roisin de Burgh
From MiddleWiki
Photo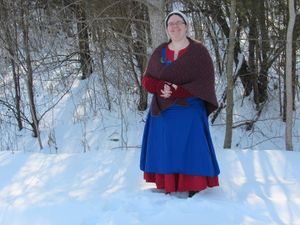 Photo taken by Roisin de Burgh
Information
Heraldry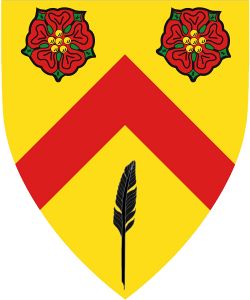 Or, a chevron gules between two roses proper and a pen sable.
Roisin de Burgh is pronounced: Row-sheen duh Berg
Pronouns are she/her
Persona
Roisin de Burgh is an Irish lady married to Gabriel de Burgh. Focus is currently on the 14th century.
Roisin was born of the O'Dubhagain family in Connacht (Galway) Ireland. She married Gabriel de Burgh. The de Burgh family was one of the most powerful Norman families in Ireland in the early 14th century.

Other personas: Viking Age Norse lady

Offices & Positions
Barony of Fenix Quartermaster (late 2019-current)
Barony of Fenix Chronicler (May 2021-current)

Honors & Awards
Award of the Golden Feather - Fenix Baronial Award, awarded January 4, 2020 AS54


Royal University of the Midrealm Degree - Licentiate with a focus on College of SCA & Historic Topics, awarded August 29, 2020 AS55
Award of the Risen Fenix for service - Fenix Baronial Award, awarded September 6, 2020 AS55


Royal University of the Midrealm Degree - Graduate, awarded May 15, 2021 AS56
Award of Arms - Middle Kingdom Award, awarded September 18, 2021 AS56

Interests and SCA-related hobbies
Embroidery and the Fiber Arts
Member of The Honorable Company of Embroiderers
Guild Rank: Novice
Category Rank: Freeform Embroidery - Competency
Miscellany
First event was Barony of Flame's Christmas Tourney in December 2018
Blog of SCA Experience and aid to new members: https://quilltippedrose.wordpress.com/
Mother of 2

My badges: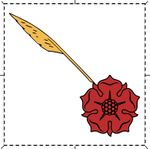 (Fieldless) In bend a pen bendwise Or conjoined to a rose gules.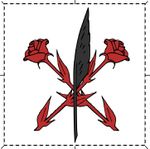 (Fieldless) In saltire two roses slipped and leaved gules, overall a pen sable.
In Case of Court
Please give advanced notice if attendance is requested for court. This will allow us to plan for court with children.