Edward Brackenburye
From MiddleWiki
Photo
Edward and Milesent at Midrealm 40th Year Celebration
Information
Heraldry

Azure in chief a Boar argent over a rose argent, two curvy-side-thingies or gouty
Baron Edward Brackenburye is perhaps best known as an accomplished archer, he served as the third Baron of the Barony of the Cleftlands and a proud member of the Baronial battle unit. One little known fact is that he bought a set of bagpipes and took lessons to learn to play them shortly after joining the SCA just so he could pipe the unit out at Pennsic.
Persona
Edward Brackenburye was a young boy at the Battle of Bosworth Field, he lived that day because he was commanded to stay with the provisions and not join the battle and in his heart mourns the loss of his King, Richard the Third. He was well looked after by his protector, the Earl of Lincoln and married a Burgundian noblewoman, Milesent Vibert whom he met on one of the many diplomatic missions between Yorkist interests and Burgundy.
Offices & Positions
Cleftlands first, second and third champion d'arc (Archery Champion) 1998, 1999 and 2000 - As Archery Champion in 1999 Edward issued a challenge to the general populace to meet or beat his score at the Pennsic Populace shoot that year and he would make a wooden box painted with their coat of arms if they did so. No one was able to out-shoot Edward alas, so he didn't have to make any boxes. Edward only competed for Archery Champion in 2000 as he still wanted to be in the running for Champion d'arms (Historically chosen from the best combatant on more than one field.) He ran the shoot to choose his successor in 2001 and one of the targets was a drawing of Edward which many picked up a bow to attempt! Extra points for his bow hand.
Archery Marshal at large from 1999? 1998? to present.
Cleftlands Champion d'arms (Baronial Champion) 2000
A few years after that, (2002? 2003?) Edward was finally given a spot on the Archery Champion's team for Pennsic where he did acquit himself well. He served on the Champion's team most years since then save for those where he was not able to attend Pennsic on the days of the shoot and shoot prep.
Archery Champion to Alaric and Noelle
Cleftlands Baronial Minister of Arts and Sciences December 2001 to December 2004 - Edward organized a series of classes at Baronial meetings on Calligraphy and Illumination which spurred great interest and swelled the ranks of the scribe's guild.
North Oaken Regional Minister of Arts and Sciences 2004? to 2007 (Stepped down as he was assuming the position of Baron, succeeded in office by Nigel.)
3rd Baron of the Cleftlands, retired, from June 2007 to April 2012
North Oaken Regional Marshal June 2013 to January 2016, he was perceeded in that office by Cellach MacCormaic who had to step down suddenly by winning Crown Tournament. He was succeeded in that office by Baron Marcus of Middle Marches.
Edward founding and current guild leader of the Middle Kingdom Embroidery Guild.
Event steward - North Oaken A&S 2015
Event Co-Steward - Standard Bearer's 2009
Event Shire Reeve - Dressed to Kill, April 2016
Pennsic A&S Champions Team alternate 2019
Miscellany
Squired to Sir William Ransom
Interests and SCA-related hobbies
Archery, A&S Faires, Calligraphy and Illumination, Embroidery, Banner making, woodworking, Heavy Weapons Combat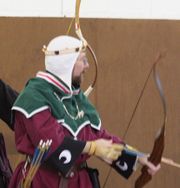 Classes Taught
Fletching Your Own Arrows
The Historic Richard the Third
Painting Silk Banners
The Middle Kingdom A&S Faire
Painting with Thread (an Embroidery class)
Tying the Turk's Head Knot
UFOs in Medieval Art