Award of the Butterfly
From MiddleWiki
The Award of the Butterfly of Andelcrag is an award given in the Barony of Andelcrag.
It is given at the discretion of the Baron and Baroness. The Butterfly is a Baronial Award developed by Thegn Edward Aelredson and Baroness Genevieve Rose de Glendalough during the term of Baron Thorfinn Grimkelsson and Baroness Brighid ni Caernaigh at their request.
The Butterfly was created in honor of Baron Byron della Farfalle.
The three butterflies symbolized the three things for which he was known: Arts, Sciences, and Service. He was an exceptional tailor, brewer, and served wherever he could. He was best known for his membership drive. At his own expense he printed membership forms and envelopes to corporate. He would setup a table at events and demos and speak to people about the Society and encourage them to be become members. He would then mail the information for them himself.
The award was originally to be given for those who excelled in those three categories. Recipients may display the badge: Or, three monarch butterflies proper within a bordure purpure.
Award of the Butterfly of Andelcrag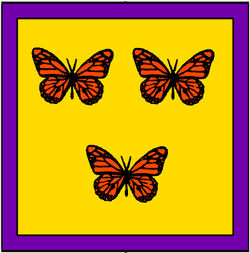 Information
| | |
| --- | --- |
| Blazon: | Or, three monarch butterflies proper within a bordure purpure. |
| Registered: | November 2005 |
| to: | Barony of Andelcrag |
Recipients of the Award of the Butterfly
Award Date Unknown
During the term of Baron Garth of the Crags and Baroness Kassia Gildea
| Date | Recipient |
| --- | --- |
| 05/06/06 | Istvan of Vokovar (aka Istvan Valkai) |
| 05/06/06 | Kyferrin Sachsson |
| 05/06/06 | Rijckaert vanUtrecht |
| 05/06/06 | Sivrid Brumbach |
| 10/06/07 | Rowan of Windtree Tower |
| 01/05/08 | Alaina Blackram |
| 01/05/08 | Alexander Blackram |
| 01/10/09 | Thomasette de Harfleur |
| 01/10/09 | Brigid ni Caernaigh the Ageless |
| 04/25/09 | Maria Leonara de Luna |
| 04/25/09 | Oweyn ap Tegwaret ab Urien |
| 09/06/09 | Caterina de Bruyn |
| 11/07/09 | Failenn Brecc |
During the term of Baron Logan Na'Sealgaith and Baroness Zaynab Yasmine
| | |
| --- | --- |
| Unknown | Genevieve Rose de Glendalough |
| 05/22/10 | Anastasiia Rusa (Ernmas O'Morda) |
| 05/22/10 | Vinca Taviani |
| 04/23/11 | Thomas Treighburn (Treyburn) |
| 04/30/11 | Eva vanOldebroek |
| 06/07/11 | Aelfwine Pyttel |
| 06/07/11 | Amanita Villarosa |
| 09/04/11 | Fiona of Three Walls |
| 10/08/11 | Enid d'Auliere |
| 10/08/11 | Seanna of Sable Raven |
| 11/05/11 | Ahellisa de Lymington (Alyssa ap Morgan) |
| 11/05/11 | Malise ingen Cormac (of Glencoe) |
| 11/05/11 | Ulrich Eisenhart |
| 08/31/12 | Kenneth Brightmore (was of Three Walls) |
| 08/31/12 | Leetvina Twinthrower |
| 08/31/12 | Mairghread Brightmoore (Merraede of Brightmoor) |
| 08/31/12 | Anneyia of Three Walls |
| 08/31/12 | Doratea Beasthealer |
| 06/01/13 | Vladislav Dragomir (Siretescu) |
During the term of Baroness Antonia Lavinia Maria Toscano and Baroness Collette du Valois
| | |
| --- | --- |
| 06/20/15 | Raymond d'Anjou |
| 06/20/15 | Victoire Hillsmeyer |
| 06/20/15 | Walter Mareshall |
| 08/29/15 | Adallisia moglie di Simon Varzi (Adallisia de Porto Fino) |
| 01/09/16 | Gilebert le Bracceur de Dijon |
| 01/09/16 | Helena Sybilla |
| 02/10/18 | Enid d'Auliere |
| 02/10/18 | Ilaria Degli Attavante |
| 02/10/18 | Sigrun Ormsdottir |
During the term of Baron Raymond d'Anjou and Baroness Zubaida Qilichlu Qari bint Abed al Kadir
| | |
| --- | --- |
| 04/14/18 | Eva vanOldebroek |
| 04/14/18 | Rijckaert vanUtrecht |
| 04/14/18 | Canton of Rimsholt |
| 08/13/18 | Connor |
| 08/13/18 | Elsa |
| 08/13/18 | Ligessac d'Issigny (Lyggessauc Cook) |
| 08/13/18 | Masarrah an bint Ma'mam |
| 08/13/18 | Rutger van Groningen |
| 09/22/18 | Revecca bat Israel |
| 09/22/18 | Rob Maille |
| 01/19/20 | Bridget O'Brien |
| 01/19/20 | Dag Thorgrimsson |
| 01/19/20 | Lassar Fhina ingen Neill |
| 12/05/20 | Jessie Voigts |
| 12/05/20 | Lillie of Lake Mälaren |