Purple Fret
From MiddleWiki
Award of the Purple Fret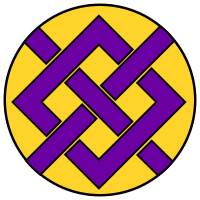 Information
| | |
| --- | --- |
| Blazon: | Or, a fret purpure. |
| Registered: | August 1979 |
| to: | Kingdom of the Middle |
The Award of the Purple Fret is an award given by the Crown to those who have shown long and devoted service to a group, office or Kingdom.
Precedence
This award conveys precedence ahead of the Dragon's Tooth, Dragon's Barb, Cavendish Knot, Red Company and White Chamfron. This award is equal to the awards: Awards of the Queen's Favor, Doe's Grace and King's Chalice.
Rights and Privileges
Recipients of this award may use the letters A.P.F. after their name and are titled Lord/Lady. The recipients may also wear a badge blazoned: Or, a fret purpure and also gives armigerous status.
History
Originally it was the Order of the Purple Fret and specifically given to those who Autocrated an Event. It was changed to an Award (by? date?) and can now be given multiple times and frequently is given for a specific act of service.
First Recipient: Caellyn y'Vearn Fitzhugh - Oct 13, 1972 by [[[5th Reign of the Middle Kingdom|TRM Andrew and Anne]]
Suggested Scroll Text
It shall be known by all that we (name of Sovereign) King (Queen) by right of arms of the Middle Kingdom, and (name of Consort) our Queen (King), do recognize the exemplary service that (name of recipient) hath freely given unto the Middle Kingdom, specifically (specific mentions). We do here publicly commend him/her and are pleased to bestow upon him/her the Award of the Purple Fret. We confirm unto him/her all rights and responsibilities attendant upon this rank and the right to bear the badge: Or, a fret purpure; without let or hindrance from any person. Given by our hands this __ day of ____, Anno Societatis (A.S.) __, in our (location of event).