Samson 'Samii' Muskovich
From MiddleWiki
Photo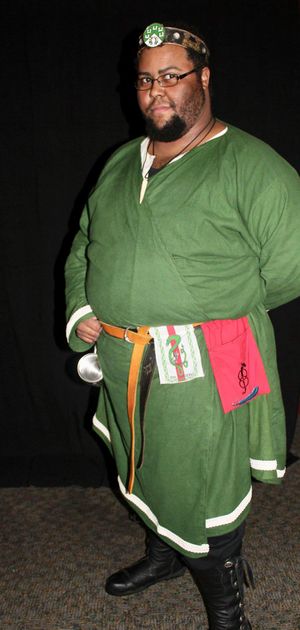 Thegn Samson "Samii" Muskovich
Information
Heraldry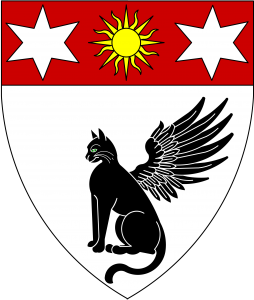 Argent, a winged cat sejant sable, on a chief gules a sun Or between two mullets of six points argent
Persona
Samson "Samii" Muskovich is a Rus-Viking nomad who earns his keep as a merchant/trader and sometimes mercenary. He believes strongly in seizing the opportunities presented to him as long as they do not compromise his integrity.
When not fighting, shooting target archery, or making something, he has been known to lend a hand or two at events. Much like his persona, Samii claims to be a nomad of the Midlands region, having ties to 3 of the Baronies in the region and traveling frequently between them.
Samii has also recently become known for his class, "Trans 101 for the SCA", where he helps to bridge the gap between transgender and gender non-conforming members, and their allies in a welcoming environment.
Offices & Positions
Current Offices:
8/25/2018 - Current: Thegn (Co-Baron), Barony of Carraig Ban
October 2018 - Current: Webminister, Barony of Carraig Ban
2016 - Current: Herald At-Large (Name/Device Research)
May 2018 - Current: Marshal At-Large (Heavy Weapons Combat)

Former Offices:
1/12/2019: Co-Event Steward, Dragonshire Kingdom 12th Night and Festival of Maidens
October 6, 2018: Feast Steward, Foxhunt IV: The Foxhunt Goes Dancing at Lughnasadh
April 2017 - July 2018: Ayreton Baronial Arts and Sciences Champion
June 16, 2018: Co-Feast Steward, Ragnarok Rampage
April 7, 2018: Feast Steward, Stone Dog XIV
May 20, 2017: Feast Steward, Ragnarok Rampage
Apr 1, 2017: Event Steward, Stone Dog XIII
Jun 19 - 23, 2016: Overnight Watch Captain, SCA 50 Year Celebration
Apr 23, 2016: Feast Steward, Stone Dog XII
2015 - October 2018: Webminister, Canton of Grey Gargoyles
Awards [1]
June 16, 2018: Award of the Well (Carraig Ban Baronial) - Ragnarok Rampage
April 7, 2018: Order of Leo of Ayreton (Ayreton Baronial - A/S) - Stone Dog Inn XIV
October 21, 2017: Award of the Purple Fret (Event Steward and Feast Steward) - Fall 2017 Crown Tournament
September 23, 2017: Royal Augmentation of Arms (a quill, Or) (Scribal for the Reign of William I and Isolde I) - Fall 2017 Coronation
May 20, 2017: Order of the Willow - Ragnarok Rampage 2017
Sep 24, 2016: Award of Arms - Fall 2016 Coronation
June 24, 2016: Award of the Pleiades of Ayreton (Ayreton Baronial - Service and A/S) - SCA 50 Year
June 23, 2016: Royal Augmentation of Arms (a padlock, Or) (50 Year Security Team) - SCA 50 Year
Interests and SCA-related hobbies
Archery: Often shoots with the Companie of Ayreton Archers and is counted among their number.
Cooking: Likes to experiment with period ingredients and recipes and apply them for modern palates.
Leathercrafting: Has experience creating many items ranging from quivers to circlets to coronets to belts. Has an interest in learning more about period leatherworking techniques and tools.
Rattan Combat: Authorizations in Sword and Shield, Great Weapons, Siege Engineer and Crew, and Combat Archery. Also is a Marshal.
Calligraphy and Illumination: Likes to dabble in various styles and techniques. Has most recently found that Norse styles delight him.
Steel Combat: Authorizations in Cut and Thrust and Rapier (Single Sword, Sword and Parry)
Households/Groups