Collette de Valois
From MiddleWiki
Photo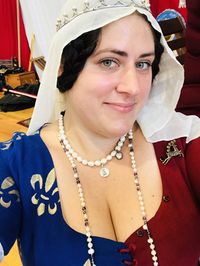 Grand Tourney 2018
Information
| | |
| --- | --- |
| Resides: | Andelcrag |
| Status: | Current Member |
| Awards: | Visit the Order of Precedence to access a list of this person's awards. |
Heraldry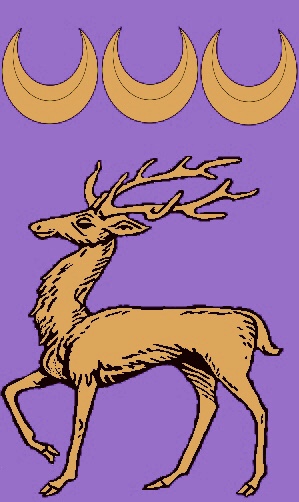 Purpure, a stag trippant or and in chief three crescents Or
Persona
Collette de Valois was born in 1327, northwest of Paris. She came of age during the Black Death.
Mundanely, she joined the Society at the tender age of 14 and learned to fight with a rapier. She eventually joined the costuming and armored communities, finding joy in recreating many different eras of clothing and bashing her enemies with a polearm.
She served as the youngest female Kingdom Rapier champion in the Middle at the age of 21. She served with her mother, Antonia Lavinia Maria Toscano, as the first set of same-gender Baronesses in the Known world, and first in the Kingdom of the Middle. They were invested and divested by the same King and Queen, Cellach MacCormaic and Vukasin of Lozengia, four years apart.
January 8, 2021, during the Great Plague, Collette became the 3rd squire of Sir Gregoire de Lyon and also a member of the House of Bellecour.
Offices & Positions
Interests
Costuming
Embellishment-Block Printing, Embroidery, Bead work, etc.
Hairstyling- Collette has been teaching women how to obtain 14th ce French and British hairstyles since 2011.
14th Century France
Armored Combat
Awards
Court Baroness, February 2018
King's Cypher- given to Andelcrag by King Tom Tinntinnabulum of Northshield, Pennsic 2015
Award of the Grove, September 2014- as a member of the Phillipian Sisters of Perpetual Scholarship
Award of the Dragon's Tooth, Pennsic 2014
Territorial Baroness Andelcrag- Invested Feb 2014, Retired Feb 2018
Order of the Willow, October 2013
Order of the Royal Vanguard, May 2010
Award of the Cavendish Knot, September 2006
Award of Arms, June 2005