Colette du Pré
From MiddleWiki
Photo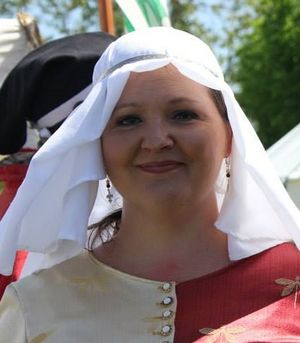 caption
Information
| | |
| --- | --- |
| Resides: | |
| Status: | Current Member |
| Awards: | Visit the Order of Precedence to access a list of this person's awards. |
Heraldry

blazon
Persona
Colette DuPré flirted with an earlier time period for a while under the name Jora, but is once again back in her beloved 14th century France.
Offices & Positions
Head Retainer to Their Highnesses Nikolai and Serena
Equestrian Marshal
Miscellany
Colette is an apprentice to Mistress Serena Kimbalwyke
Her husband is Farthegn Rinkson.
Member of House Strakoza
Interests and SCA-related hobbies
In addition to equestrian activities, Colette is very fond of embroidery.