Haus Brandenburg
From MiddleWiki
Household Heraldry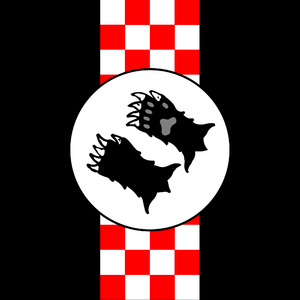 Sable, a pale checky gules and argent and overall on a plate two bear's jambes bendwise sable
Information
Haus Brandenburg
Haus Brandenburg is a Midrealm household led by His Exellency Sir Gunther von Brandenburg, Baron of the Court of Bardolph II & Brigh II. Haus Brandenburg is most numerous in the Midlands Region and fights with Legion II Midlands at Pennsic. The Haus boasts that they supply the Kingdom with 5 tons of shieldwall that has been crushing the enemies of the Midrealm for over 20 years.
Heraldry
Badge: Sable, a pale checky gules and argent and overall on a plate two bear's jambes bendwise sable.
Honors
Haus Brandenburg has twice received the Award of the Purple Fretty and has received the Order of the Doe's Grace. The Haus' fighter support group, Mother Hen Pointe, at Pennsic also received the Award of the Purple Fretty.