Finepopla Gunnarswif
From MiddleWiki
Photo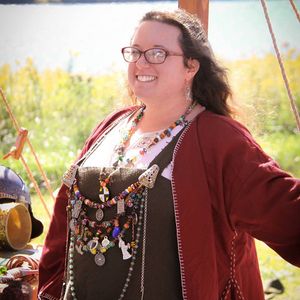 Baroness Poppy at Rose Tournament, 2016
Information
| | |
| --- | --- |
| Resides: | |
| Status: | Current Member |
| Awards: | Visit the Order of Precedence to access a list of this person's awards. |
Heraldry

blazon
Also known as "Poppy"
Persona
As the wife of Jarl Gunnar RedBoar living in the Trondr pass, Poppy works hard to lead the Hall of Red Hammer. She conducts the mead rites before battle, insures warriors are fed and clothed and defends her hall with her current passion, rapier.
As a founding member of Trothheim, she works with the Jarls and other Jarls-wifs to re-create the Heroic Age.
Offices & Positions
Previous Kingdom Minister of Regalia
Head retainer for Queen AnneLyse I
Chamberlain for Queen AnneLyse II
On staff for King Lutr and Queen Tessa
On staff for King Edmund and Queen Katrine IV
Pennsic Water 1, (2016)
Previous Baronial Historian for the Barony of Flaming Gryphon
Miscellany
In addition to her SCA interests, Baroness Poppy is an avid weight lifter.
She also enjoys throwing eggs at Drengrs of her House. Watch out, she's a wicked good shot!
Lineage
Baroness Poppy was previously a protege to Master Dafydd Blaidd and is now a Mistress of the Order of the Pelican
Interests and SCA-related hobbies
Poppy has been an avid supporter of the heavy list via her water bearing and frequent presence as a list mistress. She served Water point at Pennsic for 5 years including leading as Water 1.
She is currently enjoying learning how to stab others on the rapier list.
She is a noted craftsperson for Norse garb as well as weaving her own trim.