Bjarg Kormaksson
From MiddleWiki
Photo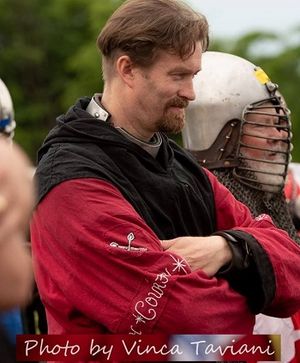 Captain Bjarg Kormaksson
Information
| | |
| --- | --- |
| Resides: | |
| Status: | Current Member |
| Awards: | Visit the Order of Precedence to access a list of this person's awards. |
Heraldry

blazon
Bjarg stumbled upon the SCA in the late 1990s and has been participating ever since. He has a passion for both history and martial arts. The SCA has allowed him to merge those things and enjoy them to the fullest. Currently Squired to Syr Logan MacCoinnich

Head of the household Clan MacEoghain since 2012.

Awards
Award of Arms - 08 January 2000
Order of the Red Company - 03 April 2004
Award of the Purple Fret - 08 October 2005
Order of the Dragon's Heart - 11 May 2013
Order of the Gold Mace - 13 May 2017


Baronial Awards (Northwoods)
Northern Star for Service
Northern Star for Martial
White Wolf
Order of the Howling Wolf - Premier of the order (29 September 2018) - Highest order one can receive in the Barony of Northwoods.


Persona
Bjarg, son of Kormak son of Eoghain (Cormac MacEoghain) after many years of roving with his brothers, traveled far from his homeland of Sweden to Kiev and became a trader along the route from Kiev to Baghdad where he reacquainted himself with the foster daughter of his house, Jahan Ara, the widow of one of his father's stewards, who had traveled south to oversee some land. They were married, have a son Malachy Bjargsson and now split their time between Jahan Ara's estate near Baghdad and Keiv.
Offices, Positions Held, and Service
Current Offices:
Deputy Pentamere Regional Marshal - Armored
Northwoods Knights Marshal


Other Offices held
Local: Canton of Ealdnordwuda- Knight's Marshal many times over 22 years, Seneschal (2 3 year terms),
Baronial:Knight's Marshal (Current), Northwoods Deputy Seneschal (4 years),
Regional: Pentamere Regional Seneschal


Other Positions and Titles

Northwoods Baronial Champion, 2009-2011 (3 yrs) Odo & Dulcinea

Northwoods Baronial Commander - 9 years - For Baroness Ciara and Baron Angus were Northwoods (The included Shadow Clans, sometimes Iron Wolf, and Pentamere Free Company) 1 1/2 -2 years under Baron Odo & Baroness Dulci until position was retired.

Former Archery Marshal of the Field


Service

Part of Royal Staff during Count Lucien & Countess Catarina's Reign

Event Steward for Squire's Tourney, 2005

MIC at Squire's Tourney (multiple times), Event Staff at Ealdnordwuda 12th Night (every three years)