77th Reign of the Middle Kingdom
From MiddleWiki
King: Lutr
Queen: Tessa
Crown Touranment: Sir Lutr had been a finalist in the Midrealm Crown lists several times before finally emerging victorious in a spectacular finals with Sir Jocelyn (who may be the first female fighter ever to be a finalist in a Midrealm Crown, correct me if I'm wrong.)
Coronation: April 19, 2008 and May 25, 2008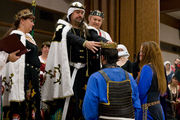 Notable events: Lutr and Tessa had a strong interest in Viking-age Norse studies and stayed true to that time and persona throughout their reign instituting very popular "mead halls" where food and beverages were served to the populace during Royal court. They were also the first Midrealm King and Queen from Kentucky.
The kingdom was shocked when their reign was abruptly ended on May 17th, 2008 for a lapse in membership. SCA Corpora states that if a reigning king or queen's membership lapses, their reign is immediately terminated. Duke Palymar, as the previously reigning King, was asked to be Regent and accepted. Stepping forward to lead the kingdom in a very dark hour. As Regents, Palymar and Aislinn sat in personal chairs, leaving the Midrealm Thrones empty.
Fortunately for Lutr and Tessa the abrupt end of their reign happened before their Crown Tournament - if it had happened afterward, the prince and princess would have immediately been made king and queen. A plan was devised to hold two tournaments on that day, the first to determine the king which Lutr was allowed to fight in and the second to determine their heirs. Lutr was victorious against Duke Dag who used his ducal prerogative to stand aside after winning the first bout in the finals of the morning tournament on May 25th and was again crowned King.
Since the tournament was of particular historic importance, all of the landed barons and baronesses present were invited to sit inside the list ropes along with the knights and masters of the chivalry to observe the finals.
Champions:
Royal Staff:
Chamberlain:
Head Retainer:
Ladies/Lords in Waiting:
Knights/Masters elevated:
Laurels elevated:
Pelicans elevated
Curia Regis:
Kingdom Seneschal:
Dragon Herald: Dafydd Blaidd
Earl Marshal:
Exchequer:
Chronicler:
A&S Minister:
---
76th Reign of the Middle Kingdom < 77th Reign of the Middle Kingdom > 78th Reign of the Middle Kingdom