Shahzada Isfahani
From MiddleWiki
Photo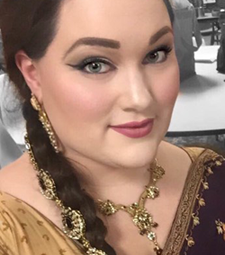 Shahzada al-Zahra at East Kingdom Coronation, October 2015
Information
Heraldry

blazon
Shahzada al-Zahra (fka Shahzada Isfahani) joined the Society at the age of 13 after attending a demonstration at her school. Shahzada is originally from the East Kingdom, in Barony of Concordia of the Snows. Shahzada moved to the Middle Kingdom, Barony of the Cleftlands, in 2017. Shahzada is known for natural henna body art, 'blinging out' her garb, her gregarious personality, a passion for demonstrations and welcoming new members, and for having a case of 'helium hand' for service.
Persona
Shahzada al-Zahra (aka Shahzada Isfahani) is an Islamic Persian noblewoman from the city of Isfahan, the capital of the Safavid Persian Empire, during the time of Shah Abbas the Great. Isfahan is entering its Golden Age of culture, architecture, and prestige. It is here that she has learned of the court of the Mughal emperor, Abu'l-Fath Jalal-ud-din Muhammad Akbar, called Akbar the Great. He has a great love of culture of foreign peoples and lands, and surrounds himself with such in his Court. Shah Abbas has been trying to rekindle peace with the Mughals, and ambassadors and envoys go between the two capitals. Shahzada has gone with them and is currently at the Mughal court, where she participates in the culture and arts, and has begun to adopt some Mughal fashion (especially jewelry) into her own. There are even Ottomans at court whom she has befriended and swaps clothing with, even though their empires are enemies. She is enjoying exploring the traditions and culture of this new land. Shahzada enjoys the art and traditions of henna adornment and has welcomed many into the art through various henna classes.

Shahzada is both an apprentice and protege to Dame Elizabethe Alles.
Awards
Awards of Arms 23 May, 2009 (East Kingdom)
Award of the Purple Fret 9 Jun, 2018
RUM Graduate Degree 2020
Augmentation of Arms -Beacon 2021
Offices & Positions
Current
Kingdom Social Media Officer, Middle Kingdom -February 2022 - Present
North Oaken Regional Chatelaine -May 2022 - Present
Previous
North Oaken Regional Chatelaine First Deputy-May 2021 - April 2022
Kingdom Social Media Deputy, Middle Kingdom -September 2020 - January 31, 2022
Cleftlands Deputy Demonstration Coordinator-May 2017-October 4, 2017
Cleftlands Demonstration Coordinator-October 4, 2017-June 19, 2019
Cleftlands Deputy Chatelaine-July 2017-May 2019
Cleftlands Social Media Coordinator -September 23, 2018-August 21, 2019
Cleftlands Social Media Officer-September 4, 2019-May 17, 2020
Cleftlands Chatelaine-May 1, 2019-May 2021
Events
Regular Event 2018-Newcomer's Point/Chatelaine's Table
Regular Event 2018-Retainer for HRM Vukasin
Northern Oaken War Maneuvers 2018-Deputy Event Steward, Merchant Coordinator
Baron Wars 2018-Retainer for HRM Katherine
Brawl at the Crooked Dragon/Tournament of Chivalry 2018-Aid to Mistress of the List
Cleftlands Standard Bearers 2018-Deputy Gate Steward
Regular Event 2019-Royalty Liaison, Merchant Coordinator, Deputy Event Steward
Northern Oaken A&S Faire 2019-Gate Steward
Northern Oaken War Maneuvers 2019-Deputy Event Steward, Merchant Coordinator
Standard Bearers 2019-Deputy Event Voice Herald
Sweet and Savory Yule Feast 2020-Virtual, Moderator
Known World Colegio de Iberia II 2021-Virtual, North American organization, Moderator, Deputy Social Media Coordinator
Demonstrations
As Barony of the Cleftlands Deputy Demonstration Coordinator:
Bethany English Lutheran Church 2017-Children's summer camp
Mapleside Farm Medieval Festival 2017
Cleftlands Open House 2017
As Barony of the Cleftlands Demonstration Coordinator:
Cleveland Mini Maker Faire at the Cleveland Public Library 2017
Beck Center for the Arts 2018-Youth theatre group
East 200th Street Stroll 2018-Street fair demonstration
East Cuyahoga County Genealogical Society 2018
Mapleside Farm Medieval Festival 2018
Cleftlands Open House 2018
Shaker Heights Public Library 2019-Coordinated a Bardic Storyteller for their event
Cleveland Mini Maker Faire at the Cleveland Public Library 2018
As Barony of the Cleftlands Chatelaine:
Cleftlands Open House 2019
Cleveland Mini Maker Faire at the Cleveland Public Library 2019
Cleveland Mini Maker Faire at the Cleveland Public Library 2020-Virtual
Miscellany
Shahzada is married to Lord Carl of Cleftlands and will often be seen with him at events.
Interests and SCA-related hobbies
Calligraphy and Illumination, dance, costuming, fencing, archery, demonstrations, service, henna, and is fond of cooking, and more. Under her previous name of Eve of Concordia, she has also been known to lend her violin playing skills for live-music dance events and has played with the Bhakaili Branslers on numerous occasions in the East Kingdom.
Classes Taught
SCA 101
Henna: Ancient Beauty
Henna: An Introduction
A Few Popular Dances of the East Kingdom (informal)
Social Media
Barony of the Cleftlands 2018-2020-Page and group administration and moderation, content creation
SCA Merchant Relief 2020-Present-Group moderation, content creation
Virtual Pennsic-Present-Administrator, group with 3,000 active members from across the Known World, organized virtual classes and bardic/music entertainment throughout 2020
Kingdom of the Middle 2020-Present-Group moderation and administration, content creation
Colegio de Iberia II 2021- Deputy Social Media Coordinator
External Links
I have begun a Facebook-based blog about my experiences in the SCA, and to also introduce various people and personalities across our Society. I hope to use this blog as a means to expand upon SCA Demonstrations for new people, so that they are able to have an inside look as to who we are, what we do, and to feel included and more prepared to enjoy their first events. I also hope to use my blog to introduce and/or expand upon different activities and groups within the Society. A great passion of mine is also to increase representation and support diversity; of people, personas, religions, and ethnicities. With my blog, I hope to support this passion as well.