Ephraim ben Shlomo
From MiddleWiki
Photo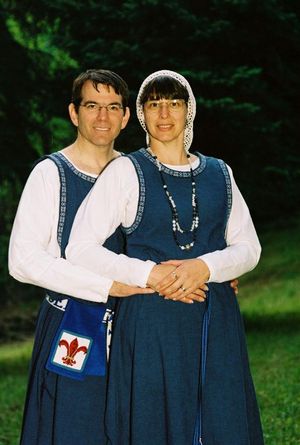 '
Information
Heraldry

Per Pale Azure and Vert three lions couchant Or
Sir Ephraim ben Shlomo is perhaps best known as a courteous knight very much in love with his lovely lady, Madelaine Bouvier.
Persona
Offices & Positions
Second Baron of the Cleftlands, retired.
Former Cleftlands Seneschal
Miscellany
First Autocrat (and founder) of the Cleftlands January Event, "A Regular Event in Cleftlands."
Chivalric Lineage
Sir Ephraim was never a squire, he has two squires of his own, Lothar de Normandie and Lyonnete Vibert.
Interests and SCA-related hobbies
Sir Ephraim is retired from armored combat and fencing. He is now better known for bardic activities and as the lyricist of the Cleftlands Baronial battle song.