Brendan O Corraidhe
From MiddleWiki
Photo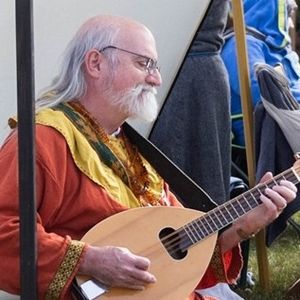 Photo by Tarmach ben Yehuda at Crown Tourney, Oct. 2019
Information
Heraldry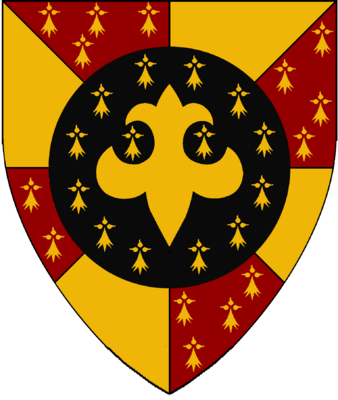 Gyronny gules ermined Or, and Or, on a roundel pean a fleur-de-lis inverted Or. Artist: Lord Robin of Twyford, of the Barony of River Haven, Kingdom of Lochac.
Persona
Ollamh (Master) Brendan O Corraidhe (AH-liv BREN-dan oh COR-ee) is a 10th-century Irish fellow. Born to poor parents, he was left at a monastery as an infant. There he learned to read and write, and developed a talent for storytelling and music. Like many contemporary Irish monks he was sent to Europe to evangelize the heathens on the Continent. Eventually he found himself in the Current Middle Ages about AS XIV.
Offices & Positions
Brendan has served as a local Knight's Marshall, and served as the Principal of the Queen's College of Bards of Ansteorra c. ASXX. He was involved with the bardic arts in Northshield's early days, though that was deliberately not formally organized. At Cleftlands events he can usually be found in the kitchen.
Miscellany
Blog: Middlewiki Midrealm blogs page
Interests and SCA-related hobbies
In the SCA, Brendan is primarily known as a bard and dishwasher (he was given a Purple Fret for "entertaining kitchen staff" and leading scullery-crew sing-alongs), though he dabbles in other arts and sciences, and long ago was a squire. Formerly a resident of Ansteorra and Northshield, he has been in Cleftlands since 2004.
He was chosen as Bardic Champion to Queen Amalie of Beckenham I and Reña Ynes de Jaen. He was apprenticed to Mistress Morgana bro Morganwyg. One of the handful of 100th-reign COVIDgilants, he was elevated to the Laurel in a virtual ceremony on April 30, ASLIV (2020).