Boldewyn Rheinholt
From MiddleWiki
Photo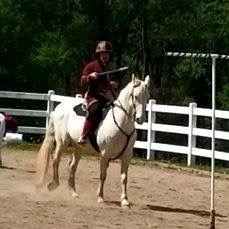 Boldewyn and Spectre competing in equestrian games
Information
Heraldry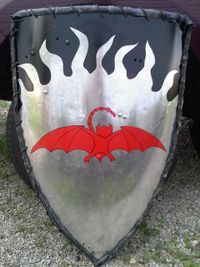 Argent, a bat gules, a chief enarched rayonny sable
Persona
Visigoth soldier in service to the Roman Legions
Introduction
Sergant Boldewyn was around for the inception of the Shire of Mugmort. He took several years of hiatus for real life and returned to the SCA in 2007. He is a member of the Shire of Mugmort, a heavy fighter in the Dragon Army and an avid equestrian. Boldewyn is also keenly interested in learning how things work and enjoys building and creating objects for use in the SCA context.
Miscellany
Co-founder and Co-Head of House Effervo
Marshal Activities
Authorized Armored Combatant in multiple disciplines including Siege crew and Engine
Warranted Armored Weapons Marshal
Authorized Equestrian in multiple disciplines including mounted combat and driving
Positions and Offices Held
Seneschal - Shire of Mugmort (2014-2016)
Middle Marches Baronial Quartermaster
Middle Marches Chronicler
Armored Combat Marshal - current
Co-Autocrat Middle Marches Baronial 12th Night
Interests and SCA-related Hobbies
Armored Combat
Seige Weapons
Equestrian activites
Roman and Visigoth/Ostrogoth research
Woodworking/Mechanical Engineering
Classes Taught
Melee 101
On-Line available:
SCA Helm Padding Research - What padding should be used and why.
An Anachronistic Cart - How to build a period cart.
An Anachronistic Dayshade - How to build a period version of a modern dayshade.
Keeping Perspective in the SCA
Horse Strap Barding Research
First Year Fighter's Guide - Everything the beginning fighter should know.
Tourney Compendium - Many types of tourneys in the SCA and how to do brackets.
Being on an Equestrian Ground Crew
A Seige Engine Study
Awards
Kingdom:
Award of Arms AS 44 (2010)
Award of the Purple Fret AS 47 (2012) Savaric and Julianna, AS 52 (2017) William and Isolde
Order of the Red Company AS49 (2014) Cadogan and AnneMarie
Award of Purple Fret AS 52 (2017) William and Isolde
Order of the Dragon's Heart AS 53 (2018) Alric and Katherine
Baronial:
Golden Affodyl AS 46 (2011) Isabeau
Warden of the March AS 47 (2012) Lamorak and Isabeau
Watchful Tower AS 48 (2013) Lamorak and Isabeau
Shepherd of the March AS 49 (2014) Marcus and Eilis