Bertrande Fresneau
From MiddleWiki
Photo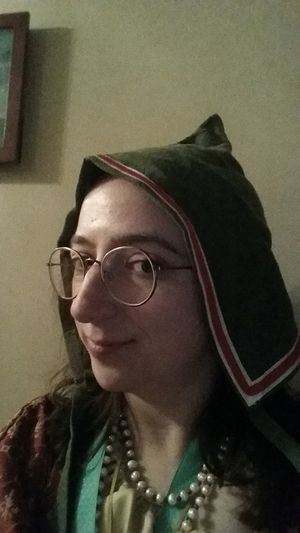 caption
Information
Heraldry

Per fess Or and gules, three dice counterchanged
Persona
Early 16th century Frenchwoman. Sometimes dresses Norse or Scottish.
Offices & Positions
Currently Winged Hills group pursuivant, Flaming Gryphon baronial historian.
Formerly Flaming Gryphon baronial pursuivant, baronial archery captain, and multiple time baronial archery champion.
Miscellany
Prior to being inducted into the Order of the Greenwood Company, was a yeoman to Forester Ulfr Raufskeggr (called Dearg) and a member of House Redwolf.
Motto: Tamen eduravit (Nevertheless, she persisted)
Badge: (Fieldless) On a fleur-de-lys Or, a die gules marked Or.
Interests and SCA-related hobbies
Archery, book and court heraldry. BA in Latin, which sometimes comes in handy.