Thomas the Green
From MiddleWiki
Photo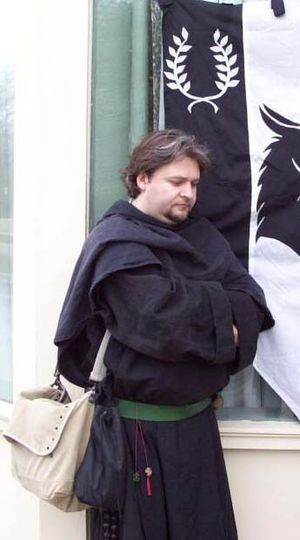 "Brother" Thomas the Green at Tournament of the Unicorn 2002-3
Information
Heraldry
Per pale vert and argent, a loop of rope, ends crossed in base, sable.
Persona
Thomas the Green, called "Brother Thomas" was born in the small village of Portswood outside of Southampton England in 1118 AD as the bastard son of a nobleman during The Anarchy, a period of political unrest in England between the years 1135 and 1154. He later joined the Order of Saint Benedict and traveled widely as a chronicler, scribe and occasional herbalist.
Major Inspirations
Fictional
Brother Cadfael of Shrewsbury, Cadfael Mysteries
Brother William of Baskerville, The Name of the Rose
Prior Phillip of Gwynedd, The Pillars of the Earth
Real
Robert of Torigni, (c.1110-1186) Abbot of Mont Saint-Michel
Roger Bacon, (c.1214 – 1294) Franciscan Friar
Geoffrey of Monmouth, (c. 1100 – c. 1155) Chronicler of the Authurian Legends, Oxford
Offices & Positions
Shire of Drakelaw
Seneschal
Pursivant
Fencing Marshall
Prior, Drakelaw Scriptorium
Miscellany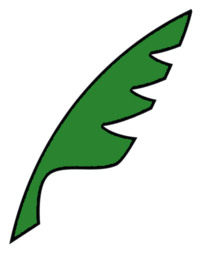 Brother Thomas is apprenticed to Mistress Katerina Helena von Schoenborn
Brother Thomas uses a green quill as a form of colophone in his scribal work.
He maintains a webpage to document his projects (both scribal and other) where he provides a number of tutorials. The Verdant Quill
Interests and SCA-related hobbies
The book arts, including:
other monastic arts and sciences such as brewing, carpentry, pottery, etc.
Awards
Order of the Evergreen (AS 39)
Order of the Silver Oak, (A.S. 37)
Order of the Willow, (A.S. 38)
Award of the Purple Fret, (A.S. 36)
Award of Arms, (A.S. 32)