Order of Ríáins Star
From MiddleWiki
Order of Rians Star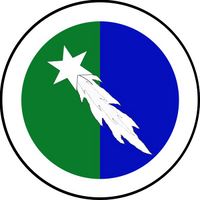 Information
| | |
| --- | --- |
| Blazon: | Per pale vert and azure, a comet bendwise and a bordure argent. |
| Registered: | November 2012 |
| to: | Barony of Ayreton |
About
The Order of Ríáins Star, also known as The Order of Ríálta Ríáin, is a Youth Service Order of the Barony of Ayreton, given to Young people for their dedication and outstanding Service to the Barony.
Precedence
As a Baronial Order, The Order of Ríáins Star conveys no precedence.
Rights and Privileges
The Order conveys the right to bear the Badge, "Per pale vert and azure, a comet bendwise in a bordure argent" and the right to style oneself as a "Companion of The Order of Ríáins Star".
History
The first order or award created after Ayreton became a barony was The Order of Ríálta Ríáin, named for Ryan of Foxvale (Ryan Sherrod).
Ryan grew up in the Society with his father Ansel of Claybourne/Jimmy Sherrod, attending local events for years and taking part in many Pennsic Wars.
Even as a young child, Ryan was service-oriented, serving drinks and helping his father cook many of Foxvale's feasts. He assisted at countless Foxvale events, as well as serving the neighboring cantons, helping at Tree-Girt-Sea's Twelfth Nights, Grey Gargoyles' Stone Dog Inns, and Vanished Woods' All Souls events. He loved attending all local events, but the gaming and auction at Stone Dog Inn held a special place in his heart.
Ryan loved archery and took to fighting early on. He was one of the first youth fighters involved when youth combat began in the Middle Kingdom. He became a Midrealm authorized fighter soon after his eighteenth birthday, fighting alongside the Barony at Pennsic, facing his foes with laughter, joy, and bravery, next to his family and friends within the Barony.
Ríáins life was cut short on April 14, 2010 in a fatal car accident. The Order of Ríálta Ríáin which translates to Ríáins Star celebrates Ríáins life and his efforts as a young volunteer who selflessly gave of his time and energy.
Suggested Scroll Text
Unto all to whom these presents come, know that We (NAME), Baron Ayreton, and (NAME), Baroness Ayreton, are mindful of the time, labor and love that (NAME) hath most freely given unto the Barony of Ayreton and its cantons with (specific mentions). As our future lies in our youth, s/he exemplifies the qualities we most cherish, and we are minded to make him/her a Companion of the Order of Ríálta Ríáin. Done by our hands this ____ day of ____ , Anno Societatis (A.S.) ____, in our Canton of (Name of Canton)