Líadan Liathán
From MiddleWiki
Photo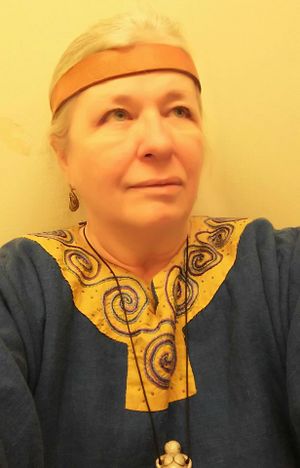 Líadan Liathán
Information
| | |
| --- | --- |
| Resides: | Constellation, Barony of Sternfeld |
| Status: | Current Member |
| Awards: | Visit the Order of Precedence to access a list of this person's awards. |
Heraldry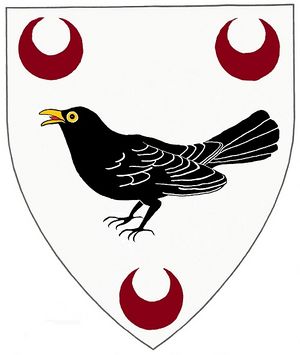 Argent, a singing blackbird proper between three crescents gules
Persona
Líadan Liathán (pronounced lee-EA-dun LIE-uh-hawn) was born in 502 A.D. in the eastern lands of in the Kingdom of Muman, Contae Chorcaí, Ireland. Even though some of 6th century Ireland serves the Christian god, Líadan's people retained their pagan traditions.
She is the eldest daughter of a minor nobleman's first wife (men being allowed more than one wife and concubines), and therefore married for political alliance. Her husband died from battle wounds suffered in a cattle raid of a neighboring kingdom, leaving her alone and with child. After the birth of her son, she took up her husband's sword and chose not to marry again. She managed their lands until her son was old enough marry; she then turned over the keys of the keep to her daughter-in-law, and continued her work as matron of the household.
Líadan is renowned for her sean nós singing voice and her abilities with the bodhrán. She is a story-teller and a keeper of history.
Offices & Positions
Chatelaine for the Barony of Sternfeld, April, A.S. 52 to present
Sternfeld Baronial Rapier Champion, July, A.S. 53
Carriag Bán Baronial Bardic Champion, A.S. 53 and 54
Miscellany
Received Sternfeld Yeoman Award, AS 51.
Received an Award of Arms, July 1, AS 52.
Líadan helped form the Sternfeld Rapier Bards, an active group of singers, poets, and storytellers who fight with more than just their rapier.
Received a Nova from the Barony of Sternfeld, January 6, AS 53 for hosting Slumberbardy.
Inducted into the Order of the Sternfeld Vanguard, January 26, AS 53.
She won the Bardic Madness Song Contest, AS 53.
Received a Purple Fret, May 27, AS 53 for being "a sunbeam, bright and warm, helping out at events in every corner of our realm."
She cooked an Irish-themed feast for the event, A Simple Day in the Country, 7 July, AS 53, that received praise and a gift from the king.
Inducted as a Companion of the Order of the Willow, July 7, AS 53 for bardic performance, composition, teaching, and hosting bardic retreats.
Honored by the Crown as a member of the Sternfeld Rapier Bards Grove, July 7, AS 53 for the creation of the Sternfeld Praise Poetry Project.
Received honor from the Crown for participation in the Sternfeld Praise Poetry Project since its inception.
Received a Purple Fretty from the Crown as a member of the Middle Kingdom Brewers, at Pennsic War on August 8, AS 54.
Honored by the Crown with a Royal Augmentation of Arms, a Beacon, October 16, AS 56 for "serving the kingdom these many dark months. She has used the bardic arts to shine out through the ether, encouraging and teaching others to use their voices and their drums to keep the fire burning in their hearts."
Lineage
Interests and SCA-related hobbies
Irish language
Music (songwiting, performance, bodhrán)
Poetry
Fencing
Cooking
Brewing and Vinting of Cordials
Fermenting of Vinegars
Fiber Arts
Illumination
Calligraphy
Classes taught
2-day Bardic Workshops at the Barony of Sternfeld biannual Slumberbardy focusing on lyric writing, melody, performance, and poetic forms.
Beginning Irish Language, and Introduction to the Bodhrán annually since Pennsic War 46.
Beginning and Intermediate Irish Language, and Introduction to the Bodhrán annually since Pennsic War 47.
External Links