Boars Heart
From MiddleWiki
Award of the Boars Heart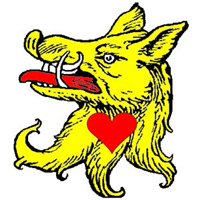 Information
| | |
| --- | --- |
| Blazon: | (Fieldless) On a boar's head erased Or a heart gules. |
| Registered: | May 1999 as an order, April 2018 as an award |
| to: | Barony of Red Spears |
The Award of the Boars Heart is an Baronial award that is given in the Barony of Red Spears. The Order of the Boars Heart was created by Baroness Gabrielle Juliana Raron and Baron William Taylor the Pure. It was originally given for service above and beyond to the Barony at Pennsic and has been expanded to such service at any event.
History
As of December 9th, 2017 the Boars Heart was changed from an Order to an Award by Baron Konrad and Baroness Isibel. The members of the Order were made recipients of the Award as of their date of inclusion in the Order. This was done since as an Award it can be received multiple times instead of conveying membership once.
It is also the name of a Baronial award in the Barony of Shattered Crystal. Note: only one group can have the award registered, Boars Heart, Order of the This order name was registered to Red Spears, Barony of in May of 1999 (via the Middle).