Béibhinn Mhodartha
From MiddleWiki
Photo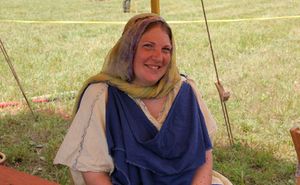 Beibhinn/Bevin
Information
| | |
| --- | --- |
| Resides: | |
| Status: | Current Member |
| Awards: | Visit the Order of Precedence to access a list of this person's awards. |
Heraldry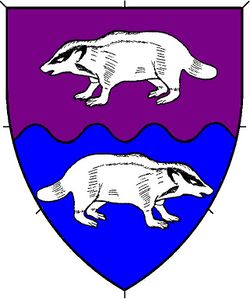 Per fess wavy purpure and azure, two brocks statant counter-statant argent.
Introduction
Lady Béibhinn Mhodartha, formerly known as Lady Bevin an Broc Drannach and Lady Bevin niBriuc, started her SCA career in 1995, while studying at Purdue University. She spent her first few years playing with the Barony of Rivenstar, and after graduation, moved south to the Shire of Riviere Constelle, then spent a brief time with the Shire of Stonecroft before moving to the Kingdom of Atlantia in 2007. After two years in the Shire of Roxbury Mill, she moved to the Barony of Ponte Alto, where she lived until Christmas of 2013, when she relocated to the Barony of Bhakail. In 2014, she returned to the Midrealm, and currently resides in southern Constellation once again.
Béibhinn in the SCA is a bit of a time traveler, garb-wise, but has a preference for early period/simpler garb. She is a dabbler in A&S in general, though she spends most of her time in various fiber arts (especially narrow wares weaving & spinning). She can knit, but doesn't enjoy it. She does enjoy thrown weapons and archery, but has no interest in heavy or light combat. She is also a bit of a service junkie, and spent a lot of time in Atlantia retaining for her baron/baroness, and occasionally for Royalty.
At Mounted War Games VII, Béibhinn earned her first equestrian authorizations, for general riding and games. She has been enjoying getting to know the Midrealm Equestrian community, and hopes to become more involved and continue learning more.
Persona
Béibhinn is a spinner/weaver in Ireland. This persona bio may be expanded upon in the future.
Offices & Positions
Seneschal of Riviere Constelle (Midrealm), October 2003 - May 2005
MOAS of Ponte Alto (Atlantia), June 2010 - December 2013
Head Retainer for Their Excellencies of Ponte Alto, Atlantia, March 2011 - December 2013
Deputy to the Officers:
Seneschal - deputy to (Mace Smallwood), Riviere Constelle, Midrealm (March-October 2003)
Chronicler - deputy to Baroness Marie Thérèse Normand, Ponte Alto, Atlantia (April 2010-December 2011)
MOAS - deputy to Mistress Belphoebe de Givet, Ponte Alto, Atlantia (April-June 2010)
Event Staff
Feast Server, Rivenstar Spring Event, Midrealm, 1999
Autocrat, Rendezvous at the Bridge, Riviere Constelle, Midrealm, 2003
Feast Head Table Server, Rendezvous at the Bridge, Riviere Constelle, Midrealm, September 2005
Hurricane Katrina raffle, Rendezvous at the Bridge, Riviere Constelle, Midrealm, September 2005
Royal Retainer, Tournament of Love and Beauty, Ponte Alto, Atlantia, 2/20/2010
Feast Head Table Server, Chalice of the Sun God, Ponte Alto, Atlantia, 10/23/2010
MOAS (learned event specifics from Belphoebe) - Chalice of the Sun God Artisan competition, Ponte Alto, Atlantia, 10/23/2010
MOAS - wrangler of Baronial Artisan/Bard selection by new B&B, Investiture, Ponte Alto, Atlantia, 1/22/2011
Royal Retainer, Investiture, Ponte Alto, Atlantia, 1/22/2011
MOAS - Chalice of the Sun God Artisan competition, Ponte Alto, Atlantia, 10/22/2011
MOAS - Artisan Token Cup, Bardic Competitions, Feast Entertainment - Ponte Alto 20 Year Anniversary, Ponte Alto, Atlantia, 2/25/2012
MOAS - Chalice of the Sun God Artisan competition, Ponte Alto, Atlantia, 10/20/2012
MOAS - Chalice of the Sun God Artisan competition, Ponte Alto, Atlantia, 10/19/2013
Event Steward, Equestrian & Animal Husbandry Symposium, Riviere Constelle, Midrealm, June 2017
Name of Position, Name of Event, mm/dd/yyyy
List in Chronological order, oldest to newest
Projects, Publications, & Sharing Knowledge
Classes Taught:
Introduction to Wet Felting, 2 sessions, Pennsic 43 (2014)
Tree Trek, Pennsic 43 (canceled due to weather), Pennsic 41
Subjects taught informally:
Spinning
Weaving on a rigid heddle
Card weaving
Inkle weaving
4-strand round braid
Wet felting
Awards
Award of Arms (Midrealm)
Award of the Purple Fret (Midrealm, Service)
Onore del Ponte D'Oro (Atlantia, Baronial Service)
Companion of the Opal (Atlantia, Service)
Onore del Ponte D'Argento (Atlantia, Baronial Arts & Sciences)
Companion of the Coral Branch (Atlantia, Arts & Sciences)
More Information