Avery Austringer
From MiddleWiki
Photo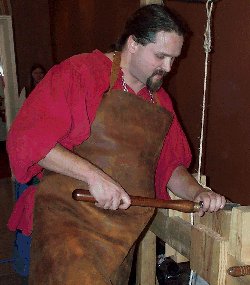 caption
Information
| | |
| --- | --- |
| Resides: | Barony of Shattered Crystal |
| Status: | Current Member |
| Awards: | Visit the Order of Precedence to access a list of this person's awards. |
Heraldry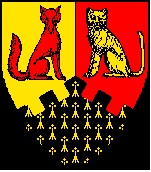 Per chevron embattled, per pale Or and gules, and pean, in chief a fox and a cat-a-mountain sejant guardant respectant counterchanged
Persona
Master Avery Austringer is known throughout the Midrealm as the Maker and Fixer of Things. You need some shelves in your carriage? Well here, he's got some wood around here somewhere for that. What's that you say? You need a new wheel for your wagon? Not a problem. Now, where did that hand drill go? Whoa, whoa, whoa! Where are you going with that messed up gorget? He's got some specialty silver glue paper for that! It may take a day or six to get it done, but once Uncle Avery has told you a story or twelve about the Good Ole' Days, you won't even notice the time passing by, and you can bet that whatever he's made for you will last through whatever the gods may send.
His artistry lies in wood, though he's shown his hand in other things as well. But give Master Avery a piece of wood, the suggestion of a plan, and a year to work on it, and you'll walk away with one of the most solid, beautiful pieces in the Kingdom. So what if it's so over-engineered that it weighs six times what it needs to and the entire Midrealm Army is required to move it. That piece will LAST!
Real Life
In real life, Master Avery lives in the Barony of Shattered Crystal (St Louis, IL). He heads a household known as the Sick Little Monkeys, with members primarily in the Midlands of the Midrealm. He is an active teacher in the A&S community, and has been known to participate incognito in the A&S competitions to throw off his competitors.
Awards [1]
| | |
| --- | --- |
| Award | Date Conferred |
| Order of the Laurel | 12 Apr, 2003 (A.S. 37) |
| Order of the Dragon's Heart | 24 Jan, 1998 (A.S. 32) |
| Order of the Evergreen | 10 Feb, 2001 (A.S. 35) |
| Order of the Silver Oak | 06 Nov, 1993 (A.S. 28) |
| Award of the Purple Fret | 07 Nov, 1992 (A.S. 27) |
| Award of the Purple Fret | 16 Jan, 2016 (A.S. 50) |
| Order of the Red Company | 16 Mar, 2001 (A.S. 35) |
| Award of the Sapphire | 01 Apr, 2006 (A.S. 40) |
Offices & Positions
Knights' Marshal - Barony of Shattered Crystal
Chatelaine - Barony of Shattered Crystal