Aline Swynbroke
From MiddleWiki
Photo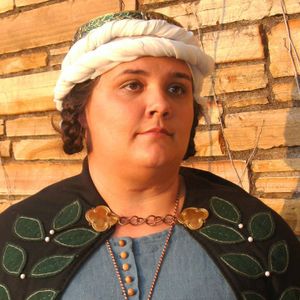 caption
Information
Heraldry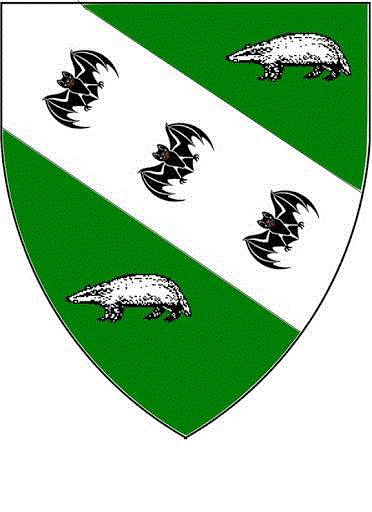 blazon
Persona
Aline Swynbroke was born on a small manor near Canterbury, England to a family of fairly recently ennobled former merchants. Following the deaths of her brothers and parents, she was made a ward of Crown, under the direction of the Household of Edward of Woodstock, the Prince of Wales, and largely raised under the supervision of the Benedictine Sisters at Higham Priory. A marriage was arranged for her at age 13, but was not completed due to the death of the groom in a tournament. It was then expected that Aline might take the veil. Instead, at the age of 18, she was married by proxy to a mercenary favorite of the Black Prince as a reward for services rendered. Aline and her new husband then proceeded to travel the continent, following to where battle takes him. Aline frequently finds herself deposited in convents for safe keeping, where she bothers the lay sisters in the kitchens and makes a nuisance of herself in their scriptoriums.
Offices & Positions
Offices Held
Chatelaine, The Shire-March of the Grimfells, Calontir August 2009-August 2011
Herald, The Shire-March of the Grimfells, Calontir, September 2013-July 2015
Secretary, SCA Legal Committee, October 2011-April 2016
Chatelaine, The Shire of Dragonsmark, May 2016-Present

Event Staff Positions
Feast Steward- Calontir Summer Crown Tournament, 2009
Assistant Feast Steward- Grimfells Sanguis Heroum, 2011
Feast Steward, Northkeep wInterKingdom, 2012
Royal Dinner Feast Steward, Lilies War 2012
Feast Steward, Grimfells Harvest Raids, 2012
Assistant Event Steward, Grimfells Hail the Striking Falcon, 2014.
Awards and Recognition
Award of Arms Ansteorra, given by Ulstead II and Cateau II, May 7, 2005
Doe's Grace Given by Ullr I and AnneLyse I, September 27, 2008.
Torse Calontir, Given by Martino III and Ariel III, July 7, 2009. The Torse is the Award of Arms level service award for the Kingdom of Calontir
Leather Mallet Calontir, Given by Ashir I and Maerwynn II, October 18, 2010. The Leather Mallet is the AOA level award given for work in the Sciences, which in Calontir includes cooking.
Silver Hammer Calontir, Given by Hirsch II and Magdalena II, September 22, 2012. The Silver Hammer is the GOA level award for work in the Sciences.
Order of the Laurel Calontir, Given by Agamemnon and Gwen, December 13, 2014. Aline's Laurel was awarded for her work in Cooking and Foodways, Research, and Diverse Arts.
Arts and Sciences Competitions
Calontir
Calontir Queen's Prize
2009- A Comparison of Chicken Broths for Invalids, Judged at Intermediate Level, 28/30
Calontir Kingdom A&S
2010- An Almond Tart from Sabrina Welserin's Das Kochbuch der Sabina Welserin (c. 1553). Entered in Tri-Levels Advanced.
2011- Championship Entry -A Remove of Four Dishes from Forme of Cury Sausage Hedgehogs, Pears in Confyt, Milk and Egg Custard Tart, and Cheese Fritters; An Original Recipe in the Style of Forme of Cury Chicken Leek Tart; Research Paper on Wine Trade into England in the 14th and 15th C, and it's Effect on What Wine to Use in Redactions for Recipes from that Period
2013- Championship Entry- Gloved for the Working Day- Experiments in Reproducing the 3-Finger Work Gloves from the Luttrell Psalter, A Meal from Irnham Hall- A course of 14th Century English dishes using ingredients seen in the Luttrell Psalter; And Richly Adorned- A Woman's Heraldic Sideless Surcote in the Style of the Luttrell Psalter
2014- Championship Entry- Clothes Fit for The Hound: 14th Century Italian Garments from the Grave Finds of Cangrande I della Scala; Of Fast and Feast: A Lenten Meal from 14th Century Italy; Be as a Tower Firmly Set: A Retelling of the Legend of Phaedra's Gate in the Style of Dante Alighieri.
Chieftains
2011- Blank Border Competition- A border based on the Cantigas of Alfonso X (Winner)
St. George and the Dragon
2011- An Illuminated Capital B with St. George Slaying the Dragon based on a 13th C original (Winner)
Valor XXXII
2011- Men's Tunicella based on the Roger II of Sicily Garment (Winner)
Ansteorra
Mooneschadowe Guardian
2005- Marzipan Sculpture
2006- Chiryse- Cherry Bread Puddings
2007- Fig Tarts
Mooneschadowe Triumphe
2011- Men's Tunicella based on the Roger II of Sicily Garment (Winner)
Miscellany
Associations
Apprentice to Mistress Fionnuala inghean Fhearghuis on February 23, 2010. Released upon Elevation, December 13, 2014.
Interests and SCA-related hobbies
Aline is best known for cooking and research. She dabbles in a number of other areas, including calligraphy and illumination, clothing construction, needlework, poetry, scroll text writing, book heraldry, and others. When not lost in the arts, she likes to retain, serve on event staff, be generally helpful, and meet new people. The Midrealm is her third Kingdom of residence, after Ansteorra and Calontir.
In her non-SCA life, she read, writes, cooks with crazy new world foods, and works in Higher Educations Administration. She lives with her husband, their adorable cats, and a forest of books.