Njall Tjorkilsson
From MiddleWiki
Photo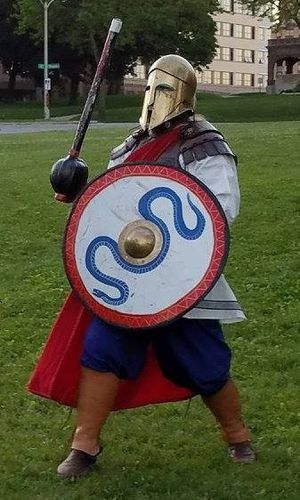 Njall Tjorkilsson aka Sarpedon
Information
Heraldry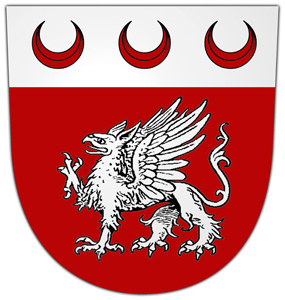 Gules, a griffin passant and on a chief argent three crescents gules.
Persona:
3rd Century BC Ptolemaic Greek (Sarpedon)
10th century AD Danish raider. (Njal)
11th century AD Anglo-Dane. (Njal)
12th century AD Dane, former Varangian Guard, Crusader. (Njall)
Received an award of Arms AS 51. Inducted into the Order of the Red Company AS 51. Sapphire AS 52.
Third Son of Duke Tjorkill Kanne of An Tir. Older brothers are Jarl Wilem Tjorkilsson and Duke Uther of The West.
(resigned peerage october 2008)
Knighted by Cellach II, November 4th, 2017 at The Grand Day of Tournaments.
Positions and Offices
Midlands Regional Chatelaine as well as XO Legio II Midlands. (Retired)
Affiliations
Chivalric Lineage
William The Silent (AS 2) (W)> Stefan De Lorraine (AS 2) (W)> Jean de la Grand 'Anse (AS 4) (W)> Hagen the Strong (AS 5) (W)> James Greyhelm (AS 6) (W)> Andrew of Riga (AS 8) (W)> Gregory of York (AS 11) (W)> Seamus Peacemaker (Thorin Njalsson, Seamus MacChluraidh of Glenerochaidh) (AS 13) (W)> Darius Corvinus (AS 25) (AnT)> Skapti Thorinsson (Skepti Ravensfury, Skepti Thorinsson) (AS 29) (AnT)> Wilam Tjorkilsson (William of Kent, William Thorinson) (AS 35) (AnT)> Caius Livius Varus Germanicus (Njall Tjorkilsson) (AS 36) (AnT)

2nd knighting: Siegfried von Hoflichkeit >Cariadoc of the Bow >Franz von Blinkend-Lichten >Andrew of Seldom Rest >Laurelen Darksbane >Talymar gan y Llwynn >Cormar gyr Mirand >Bardolph Odger Windlaufer >Cellach mac Cormaic >Njal Tjorkilsson (AS 52) (Mid)
Interests and SCA-related hobbies
Aside from heavy combat, Njall is known for Calligraphy and Illumination.
Outlander
Njal moved to AnTir, Principality of the Summits in March 2018.