Katerin ferch Gwenllian
From MiddleWiki
Photo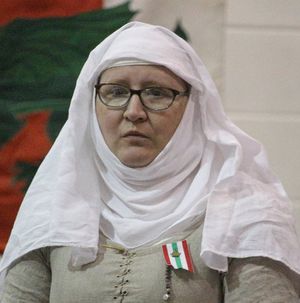 Katerin at a recent Crown Tournament
Information
| | |
| --- | --- |
| Resides: | Barony of Cleftlands |
| Status: | Current Member |
| Awards: | Visit the Order of Precedence to access a list of this person's awards. |
Heraldry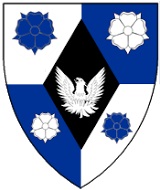 Quarterly argent and azure, on a lozenge sable between four roses counterchanged a phoenix argent
Persona
Katerin is a widow living on a small pension in the city of Manchester in the year 1390. After an adventurous youth, she has settled down to quiet enjoyment of the domestic arts.
Offices & Positions
Former Cleftlands pursuivant (July 16, 2008 to June 30, 2010)
Awards
Award of the Purple Fret (25 September, 2002)
Order of the Willow (10 June, 2017)
Miscellany
Katerin is a founding member of the House of the Three Roses. She is apprenticed to Master Derian le Breton. Her significant other is Baron Durr al-Jabal al-Mustarib.
Interests and SCA-related hobbies
Katerin enjoys researching and sewing her garb, focusing on the Gothic Fitted Dress of the late 14th and early 15th centuries. Other cultures she plans to try include 16th century Persian and 16th century Irish, and she is working on making the peploi so useful in hot weather more authentic. She has also dabbled in fingerloop braiding, poetry, songwriting, and research on historical women warriors (although she herself no longer fights). She is lightly involved in the heraldic community. At Pennsic, she is known for her pickles.