Getulio d'Amalfi
From MiddleWiki
Photo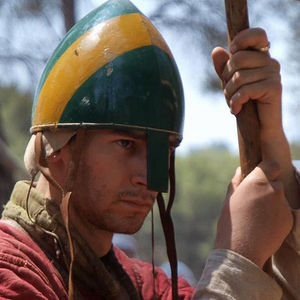 Hattin 2017
Information
| | |
| --- | --- |
| Resides: | Barony of Hidden Mountain |
| Status: | Current Member |
| Awards: | Visit the Order of Precedence to access a list of this person's awards. |
Heraldry

Vert, a bend sinister or, within a bordure gules.
Persona
Getulio d'Amalfi is a foot soldier from Amalfi, Norman Kingdom of Sicily born in 1160 of a Norman father and Italian mother. He departed Italy in 1183 for Outremer. In 1187 he took part in the Battle of Hattin and was part of the break out by Reymond III, Count of Tiberias and moved to the Principality of Antioch in the aftermath, and is there as of 1188.
Offices & Positions
Former regional marshal for the West Kingdom.
Miscellany
Squired to Count Savaric de Pardieu as of 06Aug2018.
Awards
Awards of Arms granted by King Cellach I

Award of the King's Chalice granted by King Cameron II

Award of the Dragon's Tooth granted by King Cellach II

Award of the Azure Cloud granted by Roibeard and Cecilia, Baron and Baroness of Hidden Mountain, Atlantia

Companion of the Coral Branch granted by Dietrich II and Una I, Atlantia
Interests and SCA-related hobbies
Creating a complete representation of a late 12th century foot soldier on campaign, including heavy and soft kits with great attention to material culture.
Sewing, leatherworking, cordwaining, embroidery, woodworking, research.
Has resided in the the Shire of Cuhil Collum of Middle Kingdom, Barony of Flaming Griffin of Middle Kingdom, Barony of Bjornsborg of Ansteorra, Stronghold of Warrior's Gate of the West Kingdom, and Barony of Hidden Mountain of Atlantia.
External Links
Participated in the 2017 Battle of Hattin reenactment hosted by Regnum Hierosolymitanum, Kingdom of Jerusalem.