Cellarer of Ayreton
From MiddleWiki
About
The Award of the Cellarer of Ayreton, is a Hospitality Award of the Barony of Ayreton, given for acts of hospitality on behalf of and within the Barony.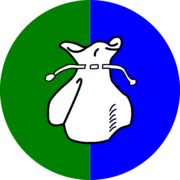 Precedence
As a Baronial Award, The Award of the Cellarer of Ayreton conveys no precedence.
Rights and Privileges
The Order conveys the right to bear the Badge, "Per pale Vert and Azure, a Money Bag Argent" and the right to style oneself as a "Recipient of the Cellarer of Ayreton".
History
N/A
Suggested Scroll Text
Let it be known that we (name of Baron) Baron Ayreton and (name of Baroness) our Baroness, do recognize the warm and welcoming heart that (name of recipient) hath displayed unto the Barony of Ayreton and its peoples, specifically (specific mentions). We place great value on those who demonstrate such hospitality and do wish to bestow upon him/her the Award of the Cellarer of Ayreton. We are all the richer for having such a person in our midst. Given by our hands this __ day of ____, Anno Societatis (A.S.) __, in our Canton of (Name of Canton).