Alexander Adelbrecht von Markelingen
From MiddleWiki
Photo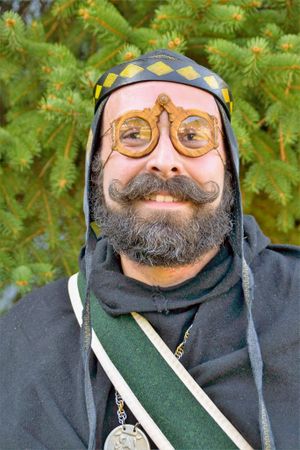 Alexander Adelbrecht von Markelingen
Information
Heraldry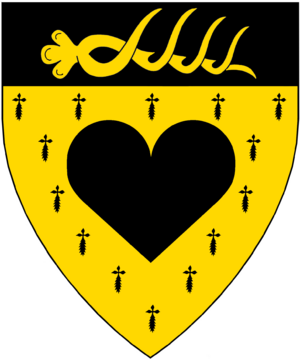 Erminois, a heart and on a chief sable a stag's attire Or
About
Alexander is currently inactive and will be taking his leave of the SCA effective 9/1/2019, his final event will be Baroness Wars VII.
Alexander joined the SCA in 1995, A.S. 30, when he attended his first meeting in the Shire of Dark River. He has been largely active since his first meeting with occasional breaks to focus on non-SCA life.
He has been involved in the SCA in 3 Kingdoms during this time, from his start in Dark River, to a brief residency in the Shire of Owlsherst in the East Kingdom and a period where he was treatied to the Kingdom of Calontir, though he never lived within the geographical borders of Calontir. Most recently, since December of 2008 A.S. 43, he has lived in the Barony of Ayreton where he resides with his domestic partner Hanß Leiland Adelbrecht.
Alexander became the Premiere Protege of Master Etienne le Couteau des Roches in November, 2011 A.S. 46.
Alexander is no longer active in the SCA after breaking from the organization after August 2019.
Persona
His Lordship, Alexander Adelbrecht von Markelingen, is an early 14th century German Country Nobleman who lives in the former Duchey of Swabia, Born November 11th, 1277.
Alexander maintains an Estate in the Village of Markelingen where he has a small farm of Black Currant Bushes which he sends to the Emperors Kitchen, as his family had done for more than a century before.
He has one Sister who lives in the neighboring Freie Stadt where she raises here three children.
Alexander is an Orphan, who had been kidnapped by thieves who killed his mother and wet nurse while traveling as an infant to visit his Grand-Mother. The thieves took him, intending to sell him, but the wife of one of the criminals took him as her own and raised him. Upon learning of the death of his wife and, as he believed his son and heir, Alexanders father took his own life. His "adopted father" was a violent drunkard who often beat the young child. The man did teach Alexander to beg and steal to aid his new family in surviving.
In his twelfth year, Alexander was caught trying to steal the purse of a young noble woman during a festival, he escaped them, but was followed and the noble woman and her husband witnessed in secret as young Alexander was beaten for failing to bring home any money that night and only managing to bring home a partial loaf of bread. The two young nobles waited until thieves had drunk themselves to sleep and and spirited the young Alexander away in the night. They took him in and gave him protection, tutors and clothing. He ate well and grew to become a capable and honorable young man.
In his twenty-fourth year, he set out to find his home and true family. He found his families Estates in the hands of the church. He toiled to reclaim his birthright and by the twenty-fifth year he regained the Estate under condition that he would pay to the church a handsome sum each year.
Offices & Positions
Current Offices & Roles Held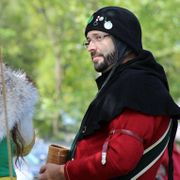 Alexander holds no offices at this time
Past Office & Roles Held
At-Large Minister of Youth, Midlands Region, January 2018 - July 2019
Lincoln Herald, Midlands Regional Herald, February 2017 - August 2019
Webminister to Their Excellencies of Ayreton, November 2015 - March 2017
Ayreton Connection Administrator, November 2014 - April 2017
At-Large Herald, May 2015 - February 2017
Deputy Chatelaine of the Barony of Ayreton, November 2016 - March 2017
Volunteer Relations Coordinator for SCA 50 Year Celebration, June 2016
Seneschal of the Barony of Ayreton, November 2015 - June 2016

Held this position to fill out the term of the previous Seneschal Gareth Ostwestly when he became Baron of Ayreton and had to step down.

Event Webminister for Known World Academy of Rapier / Known World Costuming Symposium, November 2015
Deputy Seneschal of the Barony of Ayreton, June 2014 - November 2015
Deputy Webminister of the Barony of Ayreton, June 2014 - November 2015
Meadows Herald of the Middle Kingdom, October 2013 - May 2015
Webminister for A Monk's Life: Scribin' & Imbibin' - A Scribal and Brewing Symposium, 2015 & 2016
Gate Steward for A Monks Life: Scribin' & Imbibin' - A Scribal and Brewing Symposium, February 2015
Co-Deputy Transportation/Hospitality coordinator for Known World Cooks and Bardic Symposium for the Ayreton Region, Summer 2014
Baronial Pursuivant of the Barony of Ayreton, June 2011 - June 2014
Royalty Liaison to the Crown and Heirs of the Middle Kingdom at Tree-Girt-Sea Twelfth Night - L'Arte dell' Italia, January 2014
Deputy Seneschal of the Shire of Dark River, May 2003 - September 2003
Minister of Arts and Sciences for the Shire of Dark River, May 2002 – May 2003
Minister of Children for the Shire of Dark River, May 1998? – August 1998
Minister of Dance for the Shire of Dark River, May 1996 - January 1997?
Awards [1]
Kingdom Awards
Baronial Awards & Misc
Interests and SCA-related hobbies
Acid Etched Metal

Period Textile Designs

Leather Working

Brewing - Specifically Mead and Cider, but more may come. Check out the Hirschherz Brauerei

Classes
Basic Hand Stitches: An introduction to basic hand sewn stitches with a focus on practical application

Court Etiquette 101 - Acting Right, in the Spotlight (Class to be reworked)
Households
Haus Adelbrecht - Founder and Co-Head of Household

House Aylekeepe - Member of the Household. A Service Household based in Meridies. Alexander camps here when he attends Gulf Wars.

House Black Thistle - Member of the Household

Students
As Alexander is not a Peer of the Society, he is not able to take dependents, but with the blessing of his Pelican, Master Etienne le Couteau des Roches, he has taken on Students, (Non-Formal Associates) whom he councils and guides on their service paths.
Current Students
No Current Students
Personal Heraldry
| | | | |
| --- | --- | --- | --- |
| Device | Personal Badge | Personal Badge | Household Badge |
| | | | |
| "Erminois, a heart and on a chief sable a stag's attire Or" | "Per chevron sable and Or, a heart counterchanged." | "(Fieldless) A squirrel sable maintaining with both paws a balance Or." | "Sable, a pale Or, over all a letter A counterchanged. (*Not Registered*)" |
Heraldic Offices